v.3.12 rev.1
main page
Регистрация
Войти
Войти с помощью:





Войти с помощью:




Фигурки »
figma Billy Herrington Christmas & New Year Ver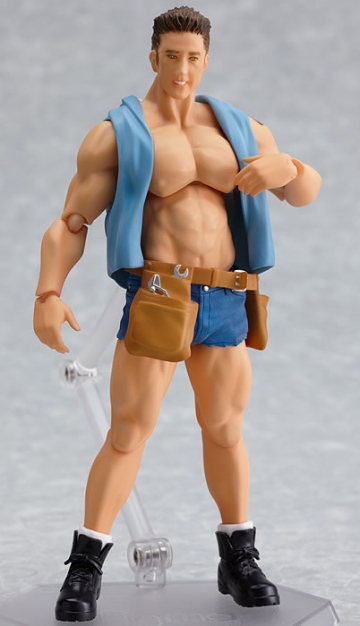 | | |
| --- | --- |
| Имя персонажа: | |
| Дата выпуска: | Декабрь, 2009 |
| Тип фигурки: | Figma |
| Материал: | PVC, ABS |
| Высота: | 145 мм |
| Кастофф: | Yes (underwear) |
| Производитель: | Max Factory |
| Скульптор: | Asai (APSY) Masaki |
| Цена (производителя): | 3000 ¥ |
| Владельцы: | 1 |
Особенности:
figma Billy Herington, perfect posing of the popular model.
Using the smooth yet poseable joints of figma, you can act out various wrestling scenes.
A flexible plastic is used for his breast muscles and biceps, allowing the proportions of his beautiful body to be kept, without compromising the posability.
Still the only figma to have shown his bare body, allowing for even more thriving poses!
Included with this version is a workshirt, and hot pants - a whole new fashion.
His underwear is identical to that which appeared in his videos, and there are two variations to switch between - the wrestling pants and the ones worn underneath them. Both can also be worn at once. A skin-colored pair is also included for an even more naked appearance.
To match with his nickname the 'mystical forest fairy', a background of a forest is included.
Comes with a poseable figma stand that makes it possible to recreate various scenes.
Представленные фотографии были сделаны производителем (Max Factory) или уполномоченным лицом. За более подробной информацией перейдите на страницу производителя. © Billy Herrington. Все права защищены.
Блоги:
Aya Kagura Morning Coffee Ver.
For now on Im going to try to make a blog post every time I receive a new figure even if I don't have too much to say (like today) I'm a figures maniac so this could lead to a lot of posts. Anyway today I received my Aya Kagura Morning Coffee Ver I bought her from one of Eld's figure sales (she...
mu597 | Фигурки и куклы | 01 фев 2011

Today's loot
I got a package today! I'm not sure if i should have made this order You will find out why in a little bit. The order included Queen's Blade Rebellion Vante (My second most wanted queen's blade figure after Melona), Emotion Style Ranka Lee and Kiwami Tamashii Kamen Rider DEN-O. Kamen Rider DE...
mu597 | Фигурки и куклы | 10 июл 2010
↓ Ещё ↓
↑ Закрыть ↑