main page
Регистрация
Войти
Войти с помощью:





Войти с помощью:




The following pages may contain
adult material
such as
strong sexual content
and
nudity
.
Please proceed only if you are 18 years of age or older.
| | |
| --- | --- |
| • I am under the age of 18 or I do not wish to be exposed to adult content. | |
| | |
| • I confirm I am 18 years of age or older and I do not mind adult content. | |
Фигурки »
Character's Selection Maple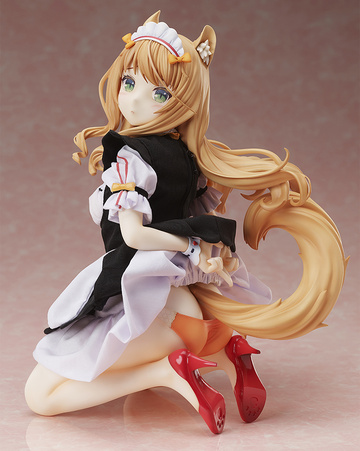 Оригинал (аниме):

Раскрыть все

Свернуть все

Имя персонажа:
Дата выпуска:
29 ноября, 2022
Тип фигурки:
Completed Model
Материал:
PVC, ABS, Cloth
Размер:
1/4
Высота:
265 мм
Кастофф:
Yes (dress and panties)
Производитель:
BINDing
Скульптор:
Otomi Ron
Серия:
Character's Selection
Цена (производителя):
37400 ¥
Владельцы:
5
Особенности:
Delivering the 2nd daughter of Minazuki household!!
From the very adorable and wholesome Visual Novel series depicting humanoid cats and their daly lives, "Nekopara".
Maple, the second daughter of the Minazuki cat sisters,
is now available as a 1/4 scale figure along with Cinnamon which means double the trouble for wallet-kun!
The illustration drawn by Sayori has been brought into life as a reproduced 3Dimensional scale figure.
Similar to all Minazuki sisters under this line, Maple's Patisserie La Soleil uniform is made out of actual cloth.
The fluffy skirt, apron, pannier, etc., are realistically reproduced with the texture to match its source material.
The figure has been further refined based on the detailed supervision in regards to the form and details of her clothing.
Of course, La Soleil's uniforms are all cast-off.
Compared to Cinnamon, you'll be paying more attention to Maple's half-dressed getup.
2 types of panties are also available, one for her holding it and the other for wearing.
As her Master, you are free to arrange her in accordance to your display.
Maple can get haughty at times, but she also has her shy gap-moe moments!
We know you'll love her at first sight!
★ Pre-Order Bonus: Illustrated Postcard
Limited + Exclusive
Представленные фотографии были сделаны производителем (BINDing) или уполномоченным лицом. За более подробной информацией перейдите на страницу производителя. ©NEKO WORKs. Все права защищены.