v.3.12 rev.1
main page
Регистрация
Войти
Войти с помощью:





Войти с помощью: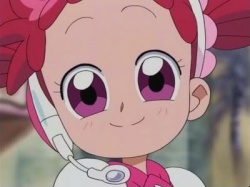 | | |
| --- | --- |
| Японское имя: | 春風どれみ |
| Прозвище: | DoReMi, Dorie Goodwyn |
Doremi Harukaze is the protagonist. Doremi reflects a typical maho shojo: lively to the point of being noisy, a poor student, clumsy and careless but very compassionate, and has shown to be boy-crazy in earlier seasons. Her favorite food is steak (which she is unable to obtain throughout the entire series). She proclaims herself to be "the unluckiest pretty girl in the whole world." Her name is a play on the first 3 notes of the musical scale DoReMi. Her fairy is Dodo, and is very much like Doremi. Doremi's theme color is pink and her crystal is a pink bean. In Ojamajo Kids, she is portrayed by Kasumi Suzuki. Doremi's birthday is April 14.