v.3.12 rev.1
main page
Регистрация
Войти
Войти с помощью:





Войти с помощью: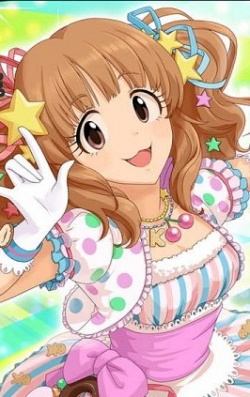 | | |
| --- | --- |
| Японское имя: | 諸星きらり |
| Прозвище: | Kirarin |
Age:
17
Height:
182 cm
Weight:
60 kg
Birthday:
September 1
Blood type:
O
BWH:
91-64-86
Hobbies:
collecting cute things
Writing hand:
right
Hometown:
Tokyo
Kirari
is a hyperactive, tall Passion category idol. She became one of the more popular Cinderella Girls immediately for her infectious energy and humorous quirks. She delights in spreading her own brand of madness into ordinary life, or as she calls it, "Kirarin Power☆". Kirari speaks rather fast and tends to pepper her speech with nonsense words in general, but the ones she's most known for is "nyowa☆", "Happy-Happy.", and "Puu-Puu."
Kirari is the tallest female THE iDOLM@STER character, even taller than the Takagis and some of the male idols, and continues to grow taller after training. Kirari started at 182 cm, and grew to 183 in her plus form. By the time she got to the SR+ stage, she grew to a towering 185 cm. She claims she can grow even bigger with the love of her fans.
She acts as an older sister to Miria Akagi and Rika Jougasaki (alongside Mika Jougasaki and Mio Honda) in the Passion Jewelries drama. She's also seen carrying Nina Ichihara around on her back in the PV for Onegai! Cinderella. A running theme among all of her idol outfits is to be very colorful, very accessorized and often with a donut glued to them somewhere.
She was frequently portrayed in fanworks with a special attachment to Anzu Futaba due to their tiny slothful girl/huge hyperactive girl juxtaposition. This has since become canon throughout the franchise. They even duet Onegai! Cinderella in a CD that is otherwise separated by same-type trios and are frequently pictured together in the Onegai! Cinderella Anniversary PV. They also have cards that, when placed side-by-side, reveal they are two halves of a greater illustration.

Voiced by:
Matsuzaki Rei