main page
Регистрация
Войти
Войти с помощью:





Войти с помощью: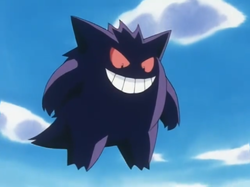 | | |
| --- | --- |
| Японское имя: | ゲンガー |
| Прозвище: | Gangar, Ectoplasma |
Gengar
is a dual-type Ghost/Poison Pokémon.
It evolves from Haunter when traded. It is Gastly's final form.
Gengar is a dark-purple Pokémon with a roundish body. Gengar's hands now connect to the rest of its body and it now has a pair of legs. Gengar has a spike-covered back. Upon evolution, Gengar's eyes are now red. Also, its mouth is usually curled into a sinister grin.