main page
Регистрация
Войти
Войти с помощью:





Войти с помощью: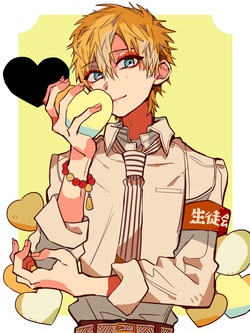 | | |
| --- | --- |
| Японское имя: | 源輝 |
| Прозвище: | Minamoto-senpai (源先輩), Minamoto-kaichou (源会長), School Prince (学園の王子) |
Age
15-16
Minamoto Teru (源輝) is a 2nd year student at Kamome Academy's High School Division and the school's Student Council President. He is also a member of a renowned family of exorcists, the Minamoto Clan.
Appearance
Teru is a tall boy with short, spiky blond hair and blue eyes. He wears his school uniform neatly, with the sleeves rolled up. On the left sleeve is the student council armband.
He also wears a bracelet in his right hand. Like Kou, he carries around an exorcism weapon to school every day, wrapped with dark cloth when not used.
On his days off, he casually wears an unbuttoned shirt with T-shirt inside.
Personality
Calm and collected, not to mention reliable, he's well-liked by his peers. He is also very perceptive, as he is able to easily recognize supernatural happenings and identify them.
According to Nene, due to his good looks, personality, and top grades, he earned the nickname "The School Prince". Teru himself, however, does not seem to fancy himself over it. After hearing Nene's compliment about him, he just thanked her, and apologized for surprising her.
His kind-hearted personality attracts not only girls his age, but also boys, as some are even willing to rip his button off to give Teru a replacement for his lost button.
He is especially kind towards his siblings, Kou, and his sister, as he almost always does what they asked of him. When shoved a doughnut from Kou to shut up, instead of rejecting the doughnut he just quietly eats the doughnut, twice, even.
Queenkingpopular
Aoi and Teru's status in school as described by Nene, 'the queen and king of popularity'.
Despite his seemingly kind personalities, he also can be sadistic and harsh sometimes. Towards Akane, his vice student council president, he is pretty strict and would not afraid to give him punishment when he does mistakes.
When exorcising, he always puts off a disgusted face, as he seems to think all supernaturals are evil beings and should be exorcised. Though there seems to be some exceptions, for example towards Mokkes, as he seems to neither particularly hate or like them.
His style of exorcising seems to heavily rely on making the enemy helpless, then proceeding to exorcise them, which may seem like a somewhat cruel way of exorcising.
Jibaku Shounen Hanako-kun Wiki