main page
Регистрация
Войти
Войти с помощью:





Войти с помощью: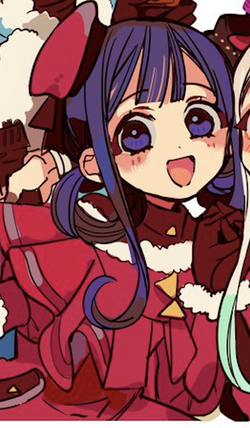 | | |
| --- | --- |
| Японское имя: | 赤根葵 |
| Прозвище: | Ao-chan (アオちゃん) |
Age
14-15
Appearance
Aoi is a cute, petite girl with indigo hair and eyes. She keeps her hair tied up into two circle sections behind her head. Her bangs is loosely parted to the side and there are two locks of hair falling on the side.
She wears the Kamome Academy uniform.
Personality
Aoi is a sweet person who is very close with her friend, Nene. She said that she doesn't like scary stories, but will continue telling Nene about them to make her happy, which shows that she is selfless and likes to please her friends. She is shown to adore romance, and was somewhat jealous when her childhood friend began to date someone. She's also somewhat of a worrywart.
Aoi is also shown to be good with words, able to get people to do what she wants with just a little pressure. She is especially harsh towards Akane, denying every single one of his love confessions all while smiling cheerfully.
If Teru is the king of popularity in Kamome Academy, Aoi is the queen of popularity. She gets confessed to left and right, and easily declines those confessions.
Jibaku Shounen Hanako-kun Wiki