main page
Регистрация
Войти
Войти с помощью:





Войти с помощью: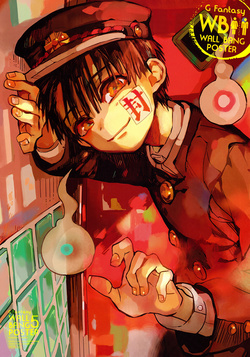 | | |
| --- | --- |
| Японское имя: | 柚木普 |
| Прозвище: | Hanako (花子), Hanako-kun (花子くん), School Mystery Number 7/Number 7 (七番), Honorable No.7 (七番さま), Hanako-san of the Toilet (トイレの花子さん), Crazy Knife (クレイジーナイフ) |
Age
approximately 13 (at death)
50+ (chronologically)
Hanako (花子), real name Yugi Amane (柚木普) is a ghost haunting Kamome Academy's old building's third-floor female toilet, third stall.
Hanako governs over the Seven Mysteries as the School Mystery Number 7.
He is the older twin brother of Yugi Tsukasa. As Amane, he previously attended the Kamome Academy as a student.
Appearance
Hanako is a short boy with choppy black hair and big amber eyes.
He wears a black gakuran with gold buttons, a white long-sleeved western shirt underneath, black shoes and red socks. The bottom of the gakuran shirt has red hems. He also wears a black hat with a gold emblem and red strings along the front seam to match his uniform. The underside of the hat is white. Hanako is often seen with and commands 2 white hakujoudai, with pink and blue circle markings respectively.
Occasionally, he is seen wearing a matching long flowing black cape with gold and red collar and clasps, and a red underside.
On his left cheek is a white seal with 封 (seal) written.
As a human, Hanako was seen wearing the old Kamome Gakuen school uniform - a white short-sleeved shirt with black pants. He was often seen covered in bruises and bandages. There was a cotton gauze on his left cheek, similar to where his seal would be.
Personality
Being the 7th school mystery and boss, Hanako maintains the balance in the relationship between humans and supernaturals of the school, and is often seen helping others around. Hanako is cheerful and childish, he likes to have fun. Rather mischievous, he enjoys teasing others. Although he is playfully perverted, he gets flustered easily. He appears to be somewhat sadistic as he happily threatened to turn Yako into fox udon but he is also kind as he constantly helps Nene and sincerely apologized when he hurt her feelings. According to Sakura, he is capricious and moody. Despite his childish persona, Yako and Tsuchigomori follow his orders. His personality has stayed the same as when he was human but he was very passionate about astrology and even dreamed of being an astronaut which he no longer talks about.
When he's upset, which is usually due to being reminded of Tsukasa's death, he tends to find isolated locations such as the rooftop. In the presence of others, he is often shown smiling to mask negative emotions and can be described as a Stepford Smiler. Though he is always smiling at inappropriate times and seemed like he doesn't care about what is happening around him, his actions prove otherwise. He rarely talks about himself and it is hinted that this is because he fears revealing his past.
Hanako has expressed a great deal of affection and concern for other individuals, especially his human companions, despite denying so. This is shown when he cheers Nene up with a kiss and when he chased around the school to find the Mokke's hidden trinkets, which included Kou's earring. He also opens up considerably with their company, confessing that his favorite dessert is donuts, which surprised even Tsuchigomori.
Jibaku Shounen Hanako-kun Wiki