main page
Регистрация
Войти
Войти с помощью:





Войти с помощью: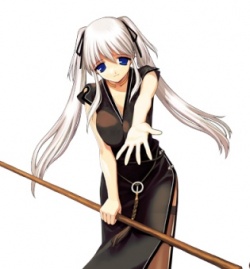 A beautiful girl in a black dress with intricate patterns. Her deep azure blue eyes remind everyone of an endless blue sea full of mystique. With her pale skin and her distinctively sublime silhouette, she seems as if she belongs in another world.
Nao 'lives,' as much as anyone can, in the Soul Stream. Her main task is to start travelers on their way in the world of Erinn.
The Nao Service is named after her. It costs 9,500 NX and allows the player to ask her to come revive the user. How she has this power is unknown, but it is limited to the world of Erinn; while she can manifest herself in Another World, she will not do so to revive a player.
Also with the Nao Service, if the player logs in on the character's birthday (the character's original creation day --- not necessarily Saturday, the age-up day), he or she will be teleported to the Soul Stream where Nao will give the player a random accessory. At this time, the player can ask Nao many questions about her and how to play the game, as well gift her an item for her to wear.
wiki.mabinogiworld.com