main page
Регистрация
Войти
Войти с помощью:





Войти с помощью: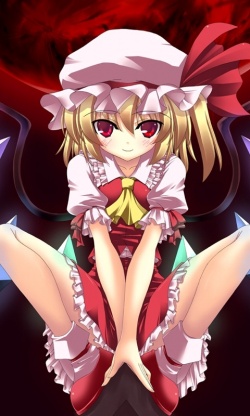 | | |
| --- | --- |
| Японское имя: | フランドール・スカーレット |
| Прозвище: | Sister of the Devil, Diabolic Wave |
Имя:
Фландре Скарлет
Раса:
Вампир
Способности:
Огромная разрушительная сила
Возраст:
Приблизительно 495 лет
Занятия:
Неизвестно
Место жительства:
Особняк Алой Дьяволицы
Внешность:
Алые глаза и светлые волосы. Носит красный костюм и розовую рубашку под жилетом. Кроме того, носит розовую шляпку с красной ленточкой. Ее крылья, вероятно, сделаны из железа, и осколков призмы. Везде таскает с собой металлическую палку, которая, по-видимому, является мифическим Лэватейном.
Фландре
является младшей сестрой Ремилии и "маленькой тайной" Особняка Алой Дьяволициы. Из-за своего нестабильного характера и огромной разрушительной силы, она была заперта в подвале почти 500 лет. Она мало знала о внешнем мире, до прибытия главных героинь в Экстра Стадии Embodiment of Scarlet Devil, раньше она никогда не встречала людей, кроме Сакуи.