v.3.12 rev.1
main page
Регистрация
Войти
Войти с помощью:





Войти с помощью: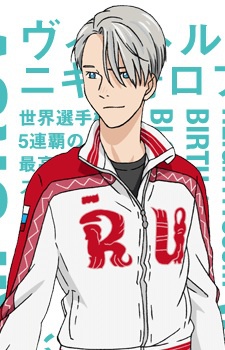 Ожидает модерации!
| | |
| --- | --- |
| Японское имя: | ヴィクトル・ニキフォロフ |
A 27-year-old figure skating legend from Russia who Yuri K. has idolized since he was a child. As a skating genius, Victor won numerous competitions since he was a teenager, including winning his fifth consecutive Grand Prix Finals following a string of victories in Nationals and the European Figure Skating Championships . At the start of series, Victor just won the World Championships consecutively five times and some people are questioning what Victor will do next season since he approaching the retirement age for figure skaters. After seeing Yuri K. skating his winning routine in the viral video, he decides to become his coach.
Живая легенда спорта, избалован вниманием зрителей, популярен как среди женщин, так и среди мужчин, обладатель харизмы рок-звезды. Пять раз подряд становился чемпионом мира. Юри с самого детства считал Виктора своим кумиром. А теперь, по непонятным причинам, и Виктора заинтересовала скромная персона Юри.
Страна: Россия