main page
Регистрация
Войти
Войти с помощью:





Войти с помощью: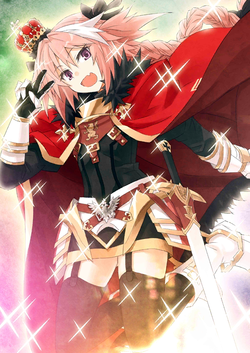 | | |
| --- | --- |
| Японское имя: | "黒"のライダー |
| Прозвище: | Astolfo |
Rider of "Black" is the Rider-class Servant of Celenike Icecolle Yggdmillennia of the Black Faction in the Great Holy Grail War of Fate/Apocrypha. He is one of the Servants of the Protagonist of the Grand Order conflicts of Fate/Grand Order.
Rider's True Name is Astolfo, the Twelfth Paladin of Charlemagne. In the Charlemagne Legend, he is the son of an English king, and one of Charlemagne's twelve faithful Paladins.