Nendoroid Yukata Miku Natsutsubaki Ver. & Madoka Maiko Ver.
14 ноя 2013 16:07:27
I'm deeply sorry about the crappy lightning in the pictures. It was dark and stormy outside, so I couldn't get any sunlight in, and the lighting in my house is always very orange since it has wooden floor and ceiling. I had to fix the colors for all the photos.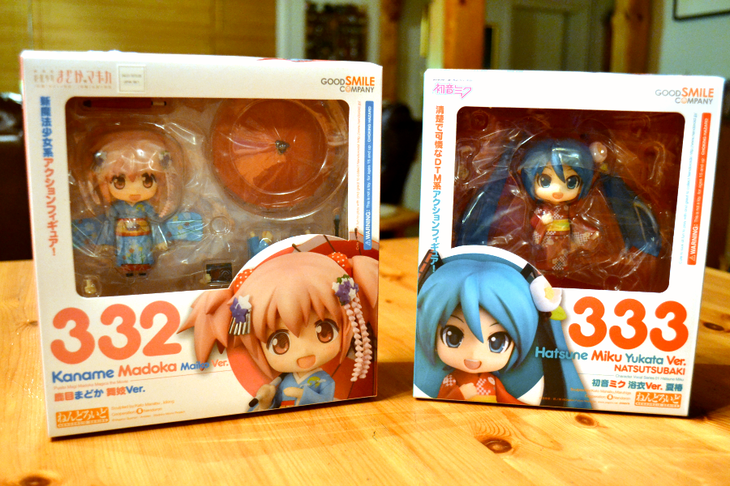 It's been a while since I posted anything, wow. The weather has been sucky this year, so I haven't been in the mood to go out and take photos with my figures like last year.
I did however participate in the GSC Halloween Nendoroid photo contest, which was a lot of fun, but they haven't announced the winners yet. I'm so excited to see who won!!
Also, I got a
doll furniture set from IKEA
this summer. They really need to make more of those suckers, absolutely fabulous work!
BUT ANYWAY, my beauties have finally arrived! Time for a review.. kind of.. thingy.
-----
Let's start with Nendoroid Kaname Madoka Maiko Ver.
Now, I'm not gonna go into detail with the boxes, as with the new generation of Nendoroids they all basically look the same, just with different color schemes. I did notice one thing that they added (that wasn't on Hatsune Miku 2.0 at least, that's as far as my knowledge stretches) is that the circles at the middle of the sides are transparent.
Click here if you're interested in seeing the box.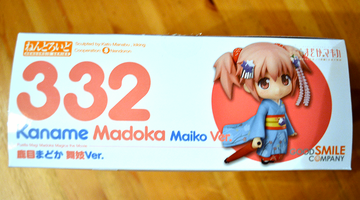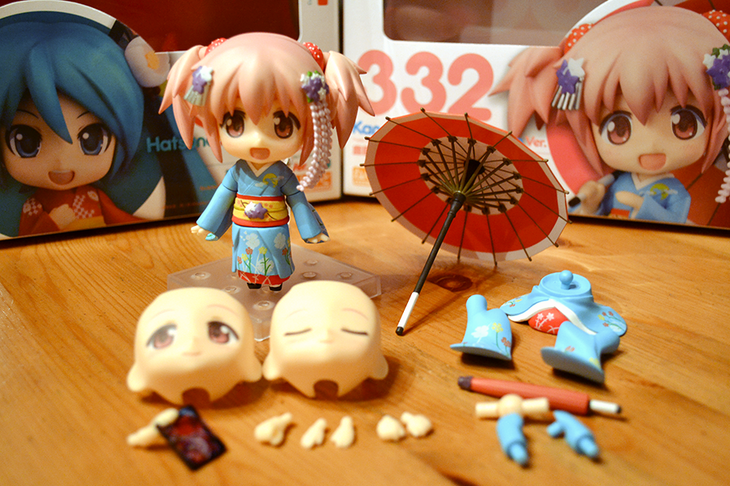 Madoka comes with a fair amount of accessories. Along with the 'default' figure, she comes with extra upper arms (for the sitting stretch forward pose), bent arms, 6 extra hands; one to hold the parasol, one holding that.. thing that I don't know what is, and 4 others that seem like different versions of hands with no space between the fingers, two extra faceplates, one extra neck joint, extra bottom part for sitting, a closed parasol, an open parasol and your typical nendoroid stand.
Madoka's quality is absolutely amazing. The only flaw that I found with her was that the paintjob on her sandals was a little sloppy. Other than that, she's basically perfect. There are no other production faults to complain about, and the details on her dress are absolutely sublime. The print is beautiful, and completely fateful to the prototype.
Madoka and all that belongs 'on' her (except for the bands holding her pigtails) is made with the typical 'soft' plastic, while her parasol is made of harder plastic. It sometimes feels like the parasol stick could easily snap, but after handling it more, it seems sturdy enough.
All in all, Madoka is absolutely beautiful. I'd recommend her to anyone, whether they're a fan of Madoka, traditional Japanese clothing or just adorable things. Plus, she comes with a very fair number of accessories, and has many posing opportunities.
-----
And, then there's Hatsune Miku Yukata Natsutsubaki Ver.
Click here if you're interested in seeing the box.
Compared to other Nendoroids, Miku has very few accessories, and very few opportunities for making interesting new poses. She was also pretty expensive considering that she hardly has any accessories. I'd like to state though, that the reason I bought her was more as an extension to my Hatsune Miku 2.0, rather than a single figure.
She comes with an extra set of arms, a hand holding a water balloon, a closed hand, a hand to hold the candy apple, a candy apple, an extra neck joint and two extra faceplates.
A was less happy with the quality of Miku, than Madoka. All around, her paintjob was great, but I couldn't get over how extremely 'stiff' she was. Maybe she just still needs to recover from the airplane and warehouse cold, but it was very hard to switch parts. Also, it kind of feels like her shoulders don't go all the way to her body (no matter what arms I use), and as you can see on the pictures above, her fringe doesn't completely 'click' into place over the faceplate and back of the head. Luckily though, the top of her head isn't really visible most of the time so it doesn't bother me as much as I think it would. (Also, I was sad that I couldn't snap together the fringe of Yukata Miku and the Miku 2.0's twintails, nor the other way around.)
Now, the good things are that her kimono print is extremely cute, and that flower looks just lovely! Both are of great quality.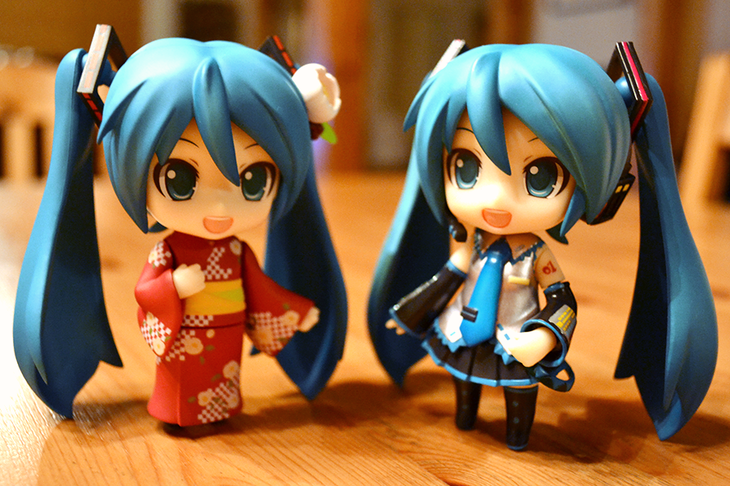 Now, a lot of people were angry when they announced Yukata Miku Natsutsubaki Ver. since she was basically a clone of Miku 2.0 dressed in a kimono, unlike past Miku variations that were completely new sculpts.
I can completely verify that this is true. Her hair sculpt (minus the flower) is exactly the same, except her twin tail accessories aren't sculpted with lines like her default counterpart, and instead the dotted lines are only printed on the squares.
One of the faceplates that comes with Yukata Miku, is also the exact same one as the one that came with Miku 2.0.
I'd like to state however, that she looks much better in real-life than on the pictures online. She gives of some kind of 'cutesy cheerful wibe'
(similarly to Miku 2.0 actually.... GAH!)
that just enchants you when you look at her. She's just too sweet to judge!
It's really hard to describe the purchase of Yukata Miku in just a few words. I'm really happy and I love her a lot, but I still feel kind of ripped of, since she has the exact same faceplate and everything. I can only blame myself though, since I decided to purchase her despite that, and like I said earlier, at first I decided to buy her as an 'extension' to my already owned Miku 2.0. I don't regret it now at all. Why you ask? Well, mostly because...
...GUMI looks great in Miku's yukata.
And also...
Miku and Madoka look great in each other's yukata.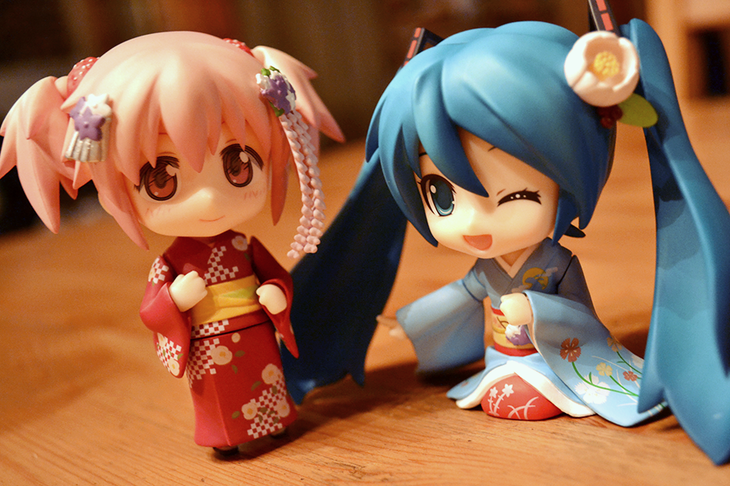 The yukata's are also just great to have, since they match pretty much any character. I'm gonna have a lot of fun with them in future photoshoots.
I'm really bummed now since I don't have regular the Yukata Miku and Yuki Miku 2013, *sigh*...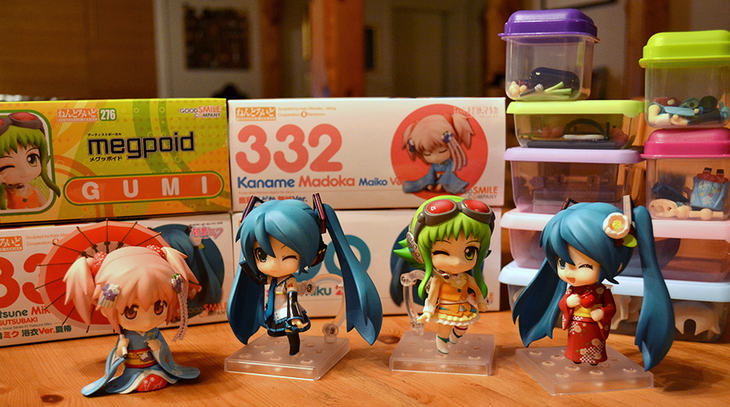 So... yeah, thank you for taking the time to read this.
I hope you enjoyed this, because I put a lot of
unexpected
effort into these reviews.
Figma Hatsune Miku 2.0 should arrive sometime next week, so be sure to keep your eyes open if you want to read my review of her as well.
It feels so weird seeing just your four Nendoroids, and thinking that you have a tiny collection, but then you look at all their accessories and you're like WHOAAAA.