Figure News SPECIAL: GSC continues to push its Sendai relief fundraiser
29 мар 2011 22:39:12
Good Smile Company is one of many corporations donating money towards the relief effort for the Sendai tragedy. In addition to
its initial donation,
GSC plans to sell a special-edition version of its Hatsune Miku Nendoroid, including an extra face and accessories as well as a 1000Y donation to the Japanese Red Cross Society for each one sold. They seem pretty determined to make this campaign a success, as they're airing a TV commercial for the first time in almost a year (the last aired one was for the Black*Rock Shooter PVC).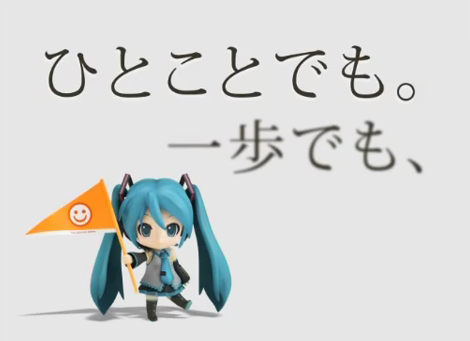 Featuring the upbeat and frankly adorable Miku song SING&SMILE by Re:nG, the commercial shows off several faces and poses for the figure while displaying a message promoting the campaign (
clicky

>Let's begin!
>To do what we can do.
>For everyone.
>For Japan.
>For the future.
>Even with a step,
>even with words.
>For everyone's smiles.
>SMILE JAPAN
>flag: "Let's do our best together!"
>*Explanation of what they are doing* check homepage. (Kudos to a kind /jp/ anon for the translations.)
).
You can see the 30-second ad below:
Of course, while every donation helps, there are plenty of ways to donate and help in the Sendai relief. On this very site, you can find a link to the Nippon Foundation's donation page, and
the American Red Cross
is also accepting donations via a variety of partners.
An enhanced reissue of a popular figure, shipping internationally for the first time in GSC's history, with a third of the proceeds going to the Japanese Red Cross. Personally, I don't think it gets much better than that - while Nendoroid Miku might have a slightly derpy face IMO, I still plan on getting one of these. Anyway, how do you feel about this campaign? Sound off below!