main page
Регистрация
Войти
Войти с помощью:





Войти с помощью:




Аниме »
Gintama Kanketsu-hen: Yorozuya yo Eien nare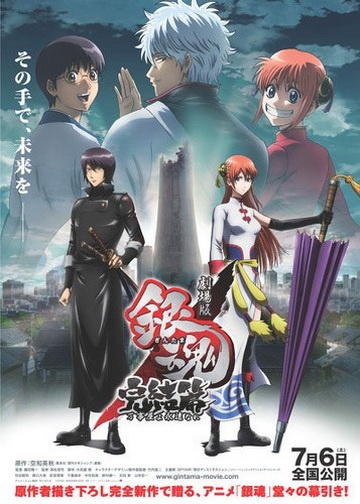 Другие названия:




劇場版 銀魂 完結篇 万事屋よ永遠なれ
Final Gintama The Movie - Be Forever Yorozuya
Гинтама Финальная арка: Йорозуя навсегда!


Tип:
Movie (1 эп.)
Эфир:
6 июля, 2013
трансляция окончена
Жанры:
Экшн
Приключения
Комедия
Историческое
Пародия
Самураи

Студия:
Sunrise

Рейтинг:
8.89
Среднее:
8.95

(226 голосов)

Схватили:
362
Синопсис:
Ёрозуя распалась, Шинсенгуми расформировали, а Джой неистовствовают!
Гинтоки, с помощью таинственной силы, оказывается в будущем, в котором его не существует. И в хаосе странного мира встречает различных персонажей, в том числе взрослых Шинпачи и Кагуру. Из-за непредвиденных событий, которые испытывает Гинтоки, ему придется столкнуться с шокирующей правдой!
Trailer