v.3.12 rev.1
main page
Регистрация
Войти
Войти с помощью:





Войти с помощью:




The following pages may contain
adult material
such as
strong sexual content
and
nudity
.
Please proceed only if you are 18 years of age or older.
| | |
| --- | --- |
| • I am under the age of 18 or I do not wish to be exposed to adult content. | |
| | |
| • I confirm I am 18 years of age or older and I do not mind adult content. | |
Аниме »
Papa datte, Shitai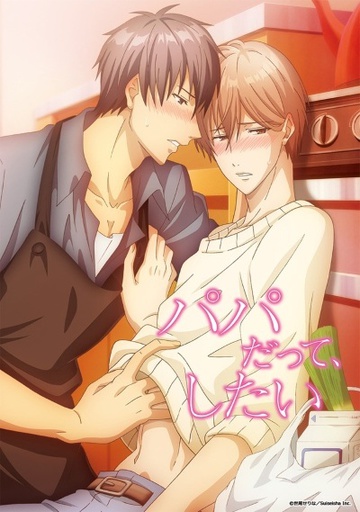 Ожидает модерации!
Другие названия:




パパだって, したい


Tип:
TV , 5 мин.
Эфир:
7 января, 2019 - ?
трансляция продолжается
Жанры:
Сёнэн ай
Яой

Студия:
Magic Bus

Рейтинг:
7
Среднее:
5

(1 голос)

Схватили:
0
Синопсис:
"There are Times I Cannot Hold It, Even If I'm a Father"
University student Asumi came to Naruse household to be a housekeeper for his part-time job. The family consists of a single-father and a son Ichika. Among them, the father Naruse is too sexy for Asumi!! Even if he is not gay, Asumi gets conscious of Keiichi, and when he noticed that Keiichi is sexually unsatisfied by noticing him watching adult video in his room, he would unconsciously get tempted to attack him…! "Naruse-san, you're too sexy for a father with a child...!"
The anime aired in three versions: an all-ages broadcast version, a 15+ version on AT-X, and an uncut 18+ version streamed on ComicFesta Anime Zone.