main page
Регистрация
Войти
Войти с помощью:





Войти с помощью:




Аниме »
SD Gundam Force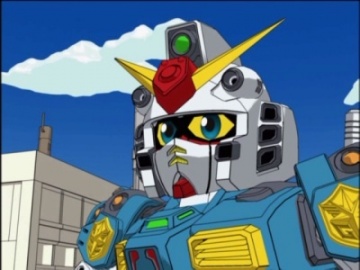 Другие названия:




Superior Defender Gundam Force
SDガンダムフォース


Tип:
TV (52 эп.), 25 мин.
Эфир:
7 января, 2004 - 29 декабря, 2004
трансляция окончена
Жанры:
Приключения
Комедия
Меха
Научная фантастика
Сейнэн

Студия:
Bandai

Рейтинг:
0
Среднее:
0

(0 голосов)

Схватили:
5
Синопсис:
The metropolis of Neotopia, a city where humans and robotic lifeforms coexist peacefully comes under attack by forces calling themselves the Dark Axis. In order to protect Neotopia, the Super Dimensional Force employs Captain Gundam to repel the forces of the Dark Axis. He is joined by by a young human named Shute, who's contact with Captain allows him to activate his Soul Drive.
Captain and Shute are soon joined by Zero, the Winged Knight, a Gundam from the Kingdom of Lacrao located in another dimension. Zero was able to escape a massive invasion from the Dark Axis that devastated his homeland with the help of Princess Rele, in the hopes of returning and defeating the Dark Axis.
Bakunetsumaru, the Burning Samurai from Ark, and arrives in Neotopia due to a teleportation mistake and ends up joining the others to combat the forces of the Dark Axis. His addition to the group forms the Gundam Force.
The Gundam Force along with the Super Dimensional Guard work together to defend Neotopia as well as restore the Kingdom of Lacroa and Ark from Dark Axis control.