main page
Регистрация
Войти
Войти с помощью:





Войти с помощью:




Фигурки »
ARTFX+ X-Men Marvel NOW! Magik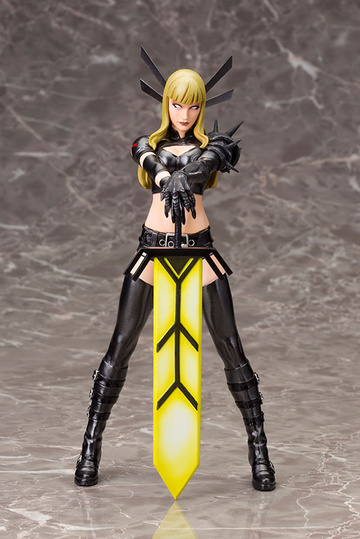 Особенности:
Kotobukiya's hit line of Marvel Comics Avengers ARTFX+ Statues paved the way for the next incredible comic-based series in this great scale, the X-Men of Marvel Now! In 2012 the comic book company relaunched several titles, shifting some characters into different books and updating some for a modern audience. More than anything, it provided a perfect jumping on point for new readers. Now the characters are brought to life as never before based on concept artwork by superstar artist Adi Granov, who was also responsible for the Avengers series. Joining previously released Cyclops, Emma Frost, and Magneto is the team's teleporter and sorceress Magik!
Magik was introduced in Marvel Comics in 1975, but back then she was just Illyana Rasputin, the kid sister of Piotr Rasputin (better known as Colossus). Illyana is a mutant as well with the power to teleport herself and others. As if that wasn't cool enough, she also became a powerful sorceress thanks to her connection to Limbo and wields the mighty Soulsword! Magik takes her place among Cyclops' team of fearless X-Men with a stunning new look, standing at attention and letting her massive sword do the talking. She is posed dynamically with her feet spread apart, her hands laid on top of the pommel of her Soulsword stuck into the ground before her. The eldritch mutant wears a unique costume consisting of thigh high leather boots, short shorts, a halter top with armored shoulders, armbands, and gloves. Her highly detailed sculpt brings out all of the cool little elements of her clothing like the buckles on her footwear, the spikes and armored fingers of her left arm, and the shafts extending from hair. Magik's costume is almost all black with silver accents and the red "X" on her shoulder, all of which contrasts nicely with her pale skin, blonde hair, and solid white eyes. Meanwhile, her Soulsword radiates with an intense yellow energy.
Sculpted by the same master artist who did the Marvel Now! Avengers series, Junosuke Abe, Magik stands over 7.5 inches tall (in the ARTFX+ 1/10th scale) on her included magnetic display base. Illyana and her Soulsword look great on their own and will be the perfect centerpiece to your Marvel Now X-Men collection!
Представленные фотографии были сделаны производителем (Kotobukiya) или уполномоченным лицом. За более подробной информацией перейдите на страницу производителя. © MARVEL. Все права защищены.
Блоги:

10 лет как Темный Феникс
Раз в пятилетку написать в блог похоже становится моим фирменным стилем, повод правда весьма важный. Сегодня 10 лет моей регистрации на полочке, а фигурки получается я собираю 12 лет, где же меня носило 2 года между, вообще не помню.)) Отметить я решила небольшим обзором на фигурку, у которой даже п...
Eredita | | 24 сен 2021
↓ Ещё ↓
↑ Закрыть ↑