main page
Регистрация
Войти
Войти с помощью:





Войти с помощью:




Фигурки »
Movie Masterpiece Sarah Connor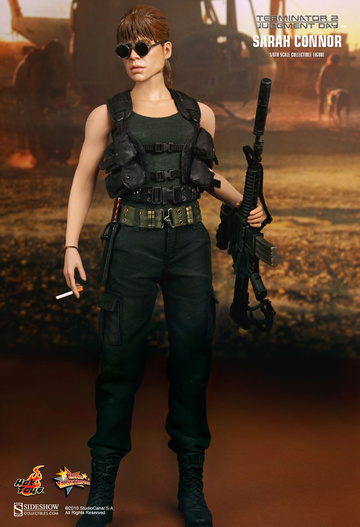 Особенности:
Hot Toys is pleased to present the 1/6th scale Sarah Connor collectible figure from the Terminator 2: Judgment Day movie. The movie-accurate Sarah Connor collectible is specially crafted based on the image of Linda Hamilton in the movie.
The 1/6th scale Sarah Connor specially features:
- Authentic and detailed fully realized likeness of Linda Hamilton as Sarah Connor in the movie Terminator 2
- Newly developed muscular rubber arm which enhances her forcefulness
- Detailed hair sculpture divided into 2 parts (fringes and middle part with ponytail attached)
- Two detachable and interchangeable fringes (one hanging over the forehand; another with middle borderline)
- Approximately 28 cm tall
- 28 points of articulations
- Two pairs of interchangeable palms (one pair of relaxed palms; one pair for holding guns)
- Two extra right palms (one for holding knife and one for cigarette)
- Each piece of head sculpt is specially hand-painted
Costume:
- Enhanced tactical load bearing vest with four magazine pouches
- Tank top
- Pants with tactical belt and pouches
- Combat Boots
- Cap
- Wristband
Accessories:
- Sunglasses
- Cigarette
- Figure base with Sarah Connor nameplate and the movie logo
Weapons:
- Assault rifle with silencer
- Shotgun with folding stock
- Pistol
- Combat knife with leather sheath
Artists:
- Head and Arm Sculpted by Yulli
- Head Painted by JC. Hong
- Head Art Directed by JC. Hong
Представленные фотографии были сделаны производителем (Hot Toys) или уполномоченным лицом. За более подробной информацией перейдите на страницу производителя. © 2010 Canal + DA. Все права защищены.