v.3.12 rev.1
main page
Регистрация
Войти
Войти с помощью:





Войти с помощью: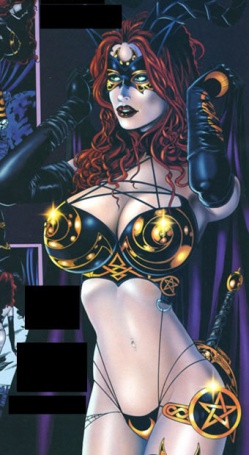 Originally called Rowan, she protects her family and her craft as the Swordmaiden of the Black Rose coven. By her own admission she is not a master witch, yet still quite knowledgeable and capable with both a spell and a sword. Tarot lives with her mother, and sister Raven Hex. She takes her job very seriously, even refusing to marry because of the dangers her position poses to those closest to her.
Tarot's magickal name stems from her psychic connection to tarot cards, which allow her brief glimpses of important events, warnings, and connections to her loved ones despite distance. She was granted the title and responsibility of Swordmaiden to the Goddess after passing a series of trials (of both physical and magickal combat). As part of her position, she wears enchanted armor, including a horned mask.
Tarot has a winged cat familiar named Pooka, and two lovers, Jon Webb and Boo Cat. Tarot is charged by the gods to protect mankind from threats, such as the Dragon Witch, sorcerers, terrorists, and even her own sister. Her constant role is to battle forces that upset or endanger the balance of mankind and the realms of magick, and to gently encourage mankind to accept magick instead of lashing out against it.