v.3.12 rev.1
main page
Регистрация
Войти
Войти с помощью:





Войти с помощью: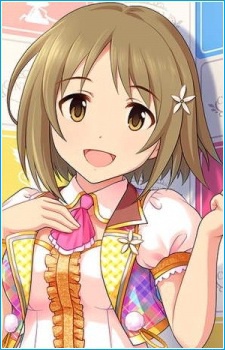 Age:
17
Height:
153 cm
Weight:
52 kg
Birthday:
January 6
Blood type:
O
B-W-H:
90-65-89
Hobbies:
making sweets

Kanako
is soft spoken, sweet girl of the Cute category with a passion for baking. Initially, she doesn't consider herself idol material because of her body image and low self esteem. She has a complex about her weight, even though she's just a bit thicker than the other girls. As her card levels up she slowly loses weight (2 cm from the waist), making her torso slightly smaller in the accompanying artwork. She is really good at making candies and sugary pastries, but it becomes a problem as she often eats the confectioneries she makes. She likes hair accessories, particularly those that feature flowers.
Even before becoming an idol she had an attractive appearance. Kanako's body, as drawn on card illustrations, is far closer to depicting a real world supermodel figure than the impossible hourglass figures seen on the other idols. She has a larger body than the typical anime girl, but given that most anime girls are impossibly thin even by Barbie doll standards, she is not unattractive. While she thinks that she's fat, Kanako easily fits the requirements to be a beach contest winner. Her most recent card illustrations have been featuring outfits that show her midriff, to show the confidence she's gained since losing weight as an idol. She has a tummy that is as flat as a board.
Interestingly, Chieri Ogata points out that she should be proud of her bust size on the Cute Jewelries 02 drama track. Kanako is so focused on her waistline, that she barely give any regard to her sizeable chest. She ranks among the largest of Cute idols, and is certainly no lightweight when compared to the entire Cinderella Girls cast as a whole.
Voiced by:
Ootsubo Yuka