v.3.12 rev.1
main page
Регистрация
Войти
Войти с помощью:





Войти с помощью: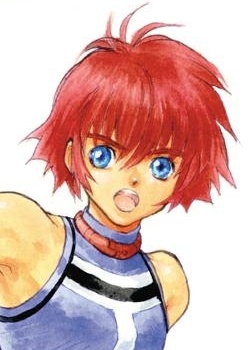 Game
Tales of Eternia
Age
18
Hometown
Rasheans
Weight
62 kg
Height
178 cm
Weapon
Sword / Axe / Spear / Halberd / Dagger / L-Sword
Japanese Voice Actor
Akira Ishida
Rid Hershel
is the main protagonist of Tales of Eternia.
Rid is a teenage hunter born and raised in the village of Rasheans. Rid is a laid back person with only one purpose in life, to continue to eat and live in peace. He possesses remarkable sword skills, honed and mastered through hunting and self-training. Rid possesses a large amount of fibril, which allows him to master the Divine Aurora late in the game to counter the Dark Aurora threatening Eternia.
At first, Rid is a lazy bum who just wants to eat and keep things the way they are. He stubbornly refuses to be dragged across the world for something that's not his business, although Farah Oersted, his childhood friend, makes sure he does. However, after seeing the world around him and going through the Trials of Seyfert, he learns that there is more to life than just relaxing and that some things need to change. He also gets a better understanding of his friends.
Rid was renamed into "Reid" in North America localization.