main page
Регистрация
Войти
Войти с помощью:





Войти с помощью: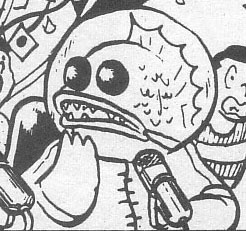 The Dappya Kaijuu (Dappya Monsters) are fish-like creatures in environment suits. They seldom play any major part in the story, but appear quite frequently in the background or make odd statements. (In the Anime, they also have a high, squeaky voice).
They are actually characters from one of Takahashi's early stories - entitled "Those Selfish Aliens" (Kattena Yatsura - Rumic World Volume 1). Some people consider this to be something of a prototype for Urusei Yatsura, dealing as it does with an alien invasion.
The Dappya Kaijuu are not actually aliens, but live deep on the oceans. Presumably this means that they are wearing diving suits. The name comes (so I am told) because they tend to end each sentence with "Dappya!" (in the original Japanese...).
Incidentally, the real aliens in "Those Selfish Aliens" also make a cameo appearance in the Urusei Yatsura story "Deranged Marriage".