main page
Регистрация
Войти
Войти с помощью:





Войти с помощью: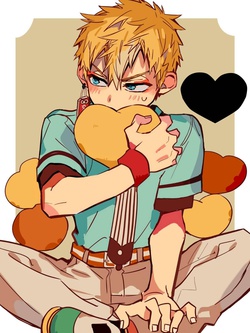 | | |
| --- | --- |
| Японское имя: | 源光 |
| Прозвище: | Boy (少年), Kou-kun (光くん), Minamoto-kouhai (源後輩), Hella-Lame, Traffic-Safety-Earring Boy (クソダサ交通ピアス) |
Age
14-15
Minamoto Kou (源光) is a student at Kamome Academy's Middle School Division, and a member of a renowned family of exorcists, the Minamoto Clan.
Appearance
Kou is a tall boy with short, spiky blond hair and blue eyes. He has two protruding canine teeth.
He wears a black shirt underneath his Kamome Middle School uniform, which is sometimes left unbuttoned and his tie hanging untied around his neck. He always wears a traffic safety amulet as a piercing on his right ear.
Kou always brings the raiteijou―a spirit staff around with him as a weapon, and covers it in black cloth when he is not using it. Currently, Kou cannot use the staff's full power because it has been sealed by Hanako.
Personality
Kou is cheerful, direct, and tends to jump into things headfirst without thinking it through. He has been shown to grow more mature as the series progresses.
Jibaku Shounen Hanako-kun Wiki