v.3.12 rev.1
main page
Регистрация
Войти
Войти с помощью:





Войти с помощью: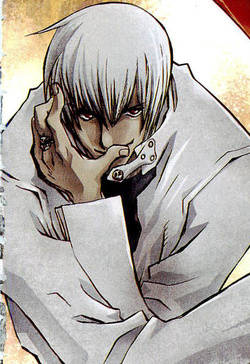 Zapp Renfro
is a member of the Libra organization and master of the Big Dipper blood fighting style.
Described as a hotheaded, hyper-sexual juvenile punk, he is easily annoyed, quick to lose his temper & his juvenile actions often get him & others into trouble.
Despite this, he is supposedly good at looking after new members, and so was assigned as Leo's partner/bodyguard. He is also something of a ladies man, possessing several lovers in town.
For reasons unknown, he continuously tries to fight Klaus, only to be routinely smacked down.
Seiyuu:
Hosoya Yoshimasa (vomic)/Nakai Kazuya (anime)