v.3.12 rev.1
main page
Регистрация
Войти
Войти с помощью:





Войти с помощью: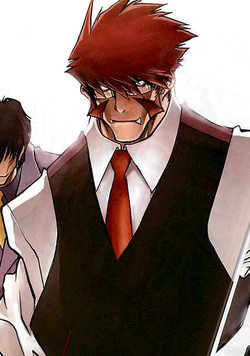 | | |
| --- | --- |
| Японское имя: | クラウス・V・ラインヘルツ |
Klaus Von Reinherz
is the leader of Libra & young head of the noble Reinherz family.
Known for his gentlemanly composure, honest to a fault nature & unshakable will, he typically conducts himself in a calm, polite manner unless suitably angered, in which case he will lash out with a beast-like level of savagery.
Due to his nature, he tends to over-stress himself worrying for the safety of others (particularly Leo) & will often put himself on the line to save them, something Zapp & a JLPD Detective have taken advantage off.
An avid botanist & Prosfair player, his office contains several potted plants which, if damaged or otherwise upset, is a sure-fire way to anger him according to Zapp.
It is implied during Gilbert's injury that Klaus will not accept tea brewed by anyone else, though he is later shown to be quite adept at brewing it himself.
Seiyuu:
Shingaki Tarusuke (vomic)/Koyama Rikiya (anime)