v.3.12 rev.1
main page
Регистрация
Войти
Войти с помощью:





Войти с помощью: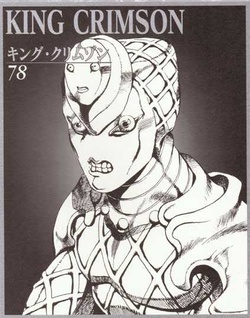 King Crimson
is the Stand of Diavolo, featured in Part V: Vento Aureo.
Trivia
- The sub-stand is based on King Crimson's song, Epitaph.
- King Crimson's time erase has been utilized with very obvious effects, but the mechanics of the time erasure themselves are not as well understood. In GioGio no Kimyō na Bōken: Ōgon no Kaze, the time erase was shown to slow down the opponent's actions while Diavolo still moves at normal speed for the duration of the obliterated time, a mechanism similar to Made in Heaven's time acceleration abilities.
- Physically, King Crimson is possibly one of the strongest Stands in existence. Unlike Stands like Star Platinum, it normally attacks not with a sequence of punches, but rather with a single attack. It is also possibly one of the the fastest Stands in existence. It is able to easily parry, react and even outmaneuver faster-than-light Stands even without the use of Epitaph.
- Because of the difficulty in adequately explaining how King Crimson's abilities work, it is the subject of the small meme "It just works" which is the answer usually given on most forums when one asks exactly how its time skip ability functions.
- In the western release of All Star Battle, King Crimson is renamed as "Emperor Crimson", while Epitaph is renamed to "Eulogy".