v.3.12 rev.1
main page
Регистрация
Войти
Войти с помощью:





Войти с помощью: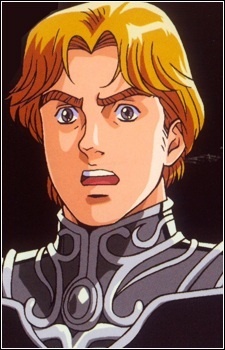 | | |
| --- | --- |
| Японское имя: | ウォルフガング・ミッターマイヤー |
| Прозвище: | Gale Wolf |
Wolfgang Mittermeyer
is a rear admiral serving in Reinhard's fleet and, along with Oskar von Reuenthal, Reinhard's ablest field commander.
Military service

Military service
Mittermeyer is a commoner, born to a middle-class family. He first met Reuenthal while stationed in fortress Iserlohn, early in his career, and the two became close friends. Kind and caring, Mittermeyer has been a stabilizing factor for Reuenthal's self-destructive tendencies ever since. A family man at heart Mittermeyer soon married his childhood sweetheart Evangeline and became a dedicated husband, but their efforts to have children have been fruitless thus far. Unfortunately for him, his lowly pedigree was about to cause him serious trouble.

Mittermeyer ordered the execution of one of his subordinates for assaulting, robbing and murdering a civilian woman. Although his decision was just, he turned out to belong to a powerful noble family and Mittermeyer was soon arrested. While the nobles plotted his death, desperate to save his only friend Reuenthal met with Reinhard von Müsel (later Lohengramm) and offered his and Mittermeyer's loyalty to him, in exchange for aid in saving Mittermeyer from the nobility and clearing his name. Reinhard, who had his own well-known issues with the nobles, readily accepted and both of them were transferred under his command.

Nicknamed "the gale wolf", Mittermeyer is renowned for his boldness in warfare, his lightning responses to changing factors in the battlefield, as well as his ability to cover huge distances in a relatively short time, while keeping his fleet organized from his flagship Beowulf. Under Reinhard's command, he receives the flagship Beowulf. Mittermeyer is an able strategist and a brilliant tactician, one of the very best of his era. He is composed, just with his subordinates and fiercely loyal to Reinhard, not only for saving his life, but also because he honestly respects his abilities.
Lohengramm Dynasty

Lohengramm Dynasty
After Reinhard's coronation as Kaiser, Mittermeyer was promoted to the rank of Fleet Admiral and appointed as the Chief Commander of the Fleet.

Upon von Reuenthal's rebellion Mittermeyer made a desperate appeal to Reinhard to give his friend the chance to explain himself, offering to relinquish all ranks and offices if Reinhard would remove Paul von Oberstein and Heydrich Lang at least temporarily from office as a sign of good faith. When this proved unsuccessful, he resolved to remove them personally but was prevented at the last minute from murdering Lang by the invervention of Ulrich Kesler.

After leading a rapid blitz into the former Free Planets Alliance against his close friend Oskar von Reuenthal and ending Reuenthal's Revolt, Mittermeyer continued to faithfully serve the Kaiser. He was in command of the Imperial forces for the vast majority of the Battle of Shiva, the final battle of the series, after the Kaiser collapsed during the opening stages. Upon the Kaiser's death, he was the only survivor from the initial pact between himself, Reinhard von Lohengramm, Siegfried Kircheis, and Oskar von Reuenthal that resulted from the other three saving him from prison. Being the last remaining original Fleet Admiral, he was likely the second most powerful person in existence, after the Kaiserin, and would have played a pivotal role in the Empire's future. His adopted son Felix Mittermeyer was hinted to be the next great ambitious figure for the Empire.

Personal life

Personal life
Known to be a kind, family man, Wolfgang Mittermeyer and his wife, Evangelin Mittermeyer, were unable to conceive any children so far. Eventually they would adopt the son of Oskar von Reuenthal, following his death.

Voice actor:
Katsuji Mori