My Collection so far....
15 фев 2010 23:19:17
Hello everyone! Inspired by
Eld's post
, I wanted to post pictures of my entire figure collection so far. On March 15th I'll be hitting the road to move back to New Mexico. I'm getting ready to start boxing up all of my things and my figures will be one of the first things I pack so I can get them out of the way. So I arranged them up all close together and gave them a big group photo:
There are a total of 77 items there which are cataloged in My Shelf. There are also a few other little figures and things in the picture that I display with my anime and manga collections which aren't included in the Figurines database for a variety of reasons. Here are some closer pictures: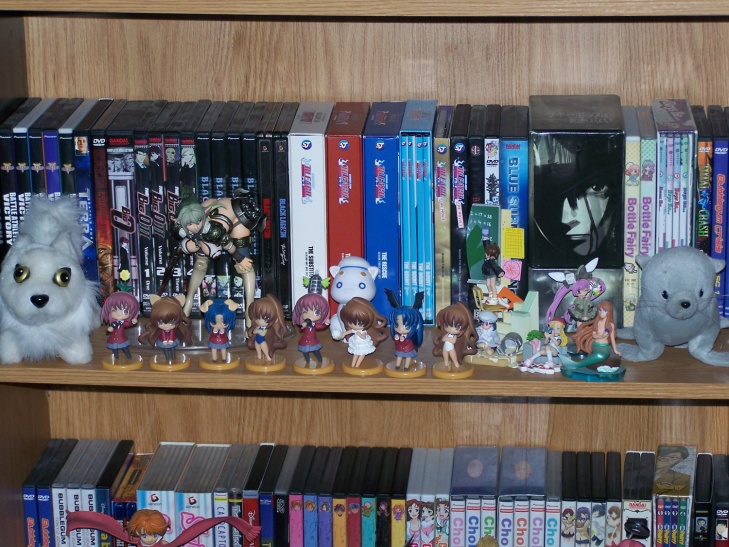 Quite a few non-database items in this section. On the left side is a plush Kiba wolf that came with the US first volume with box of the Wolf's Rain anime. On the right side is a little plush of Jonathan the seal from Kaleido Star. Beside Jonathan is a random mermaid trading figure that I thing is from the Little Mermaid (Andersen Douwa Ningyo Hime) anime. Beside her is a little figure of Rabi~en~Rose (Hikaru Usada) which came with the US limited edition release of the original DiGi Charat series. The three little loli girls beside them are from a little moe imouto series called Watashi no Oniichan; I'd still really like to get the other three book/figure sets I'm missing. And in the middle is a little squishy thing of the "President" from Aria that came as a bonus with one of the US DVD box sets I bought. I think Echidna looks a little out of place here. =P
In this picture the only non-database item is a little figure of "Dark Chii" from Chobits. I don't really remember much about the figure. I might be able to add it to the database with a little research....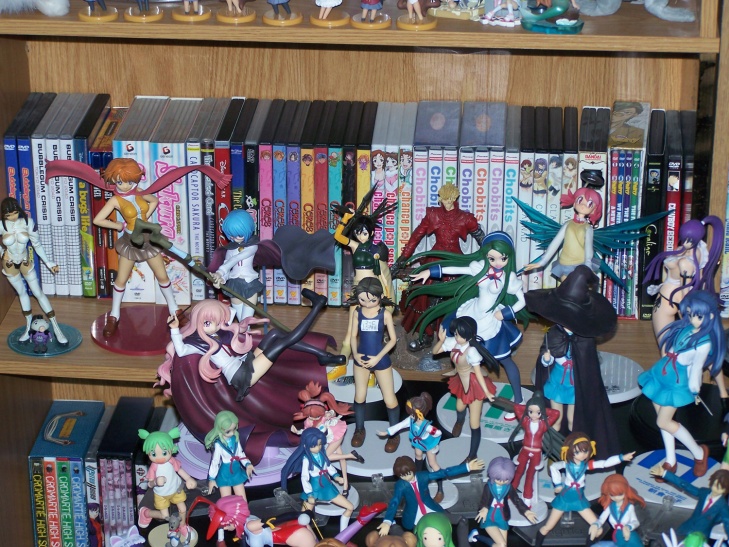 Two non-database items here. A random figure of Motoko, the Major, from the Ghost in the Shell series. I got her as a bonus with a "Girls of Gaming" book that Play Magazine released in the US. Again, don't remember much about the figure. The other is an action figure of Vash from Trigun by US toy creator and Spawn comic book artist Todd McFarlane.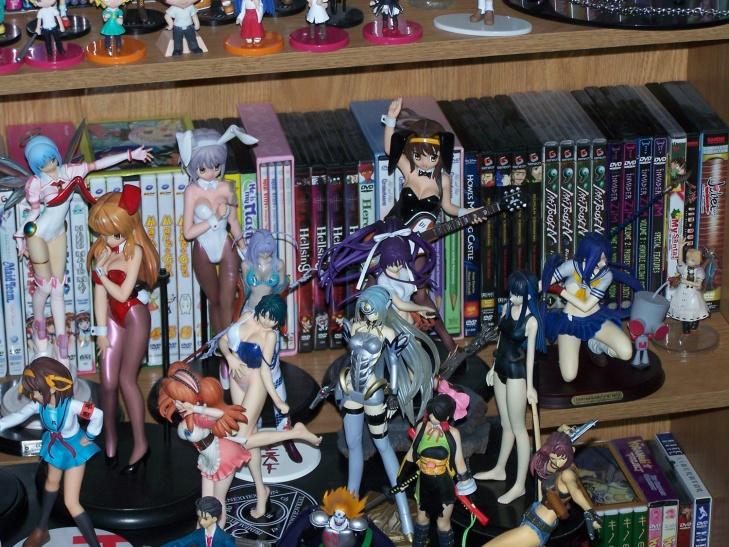 Here we have a little figure of Gir from Invader Zim and one of Al from Last Exile. Both came as bonuses with the US DVD boxes for their respective series. It's also worth noting that I actually covered the boobs of my Jiburiru and Bible Black figures here. XP
All of these figures are actually in the database, so moving on....
And here the only non-database figure we have is my little Goth Stan from South Park. It was one of my favorite episodes from the series.
And that's all. Hopefully they all make it to my new home safely. Wish me luck! :)
Oh, and I probably won't be making many new blog posts between now and when I get to New Mexico. I'll still be posting comments as usual until March 12 or 13 or so when I have to disconnect my computer and pack it up. Luckily for me according to
the current schedule for ISML voting
, there aren't any events from March 5 to 20 so that's one nice thing. ^_^