December Loot Part 1: Stormtrooper model kit / Memetaa Frog
16 янв 2015 00:43:22
Earlier this week my AmiAmi order from December arrived. This order included figma Racing Miku 2013 EV MIRAI Ver, S.H.Figuarts Kamen Rider ZO, Super Strap Collection vol.1: Memetaa Frog and Bandai's Stormtrooper model kit.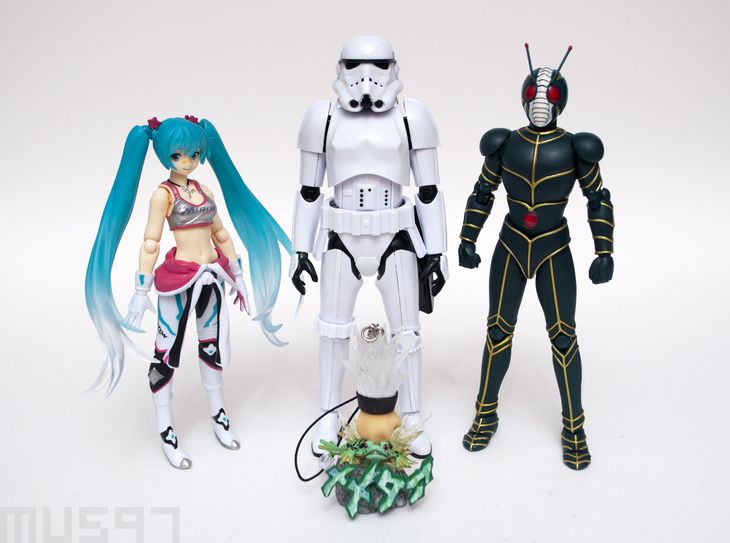 The boxes
The boxes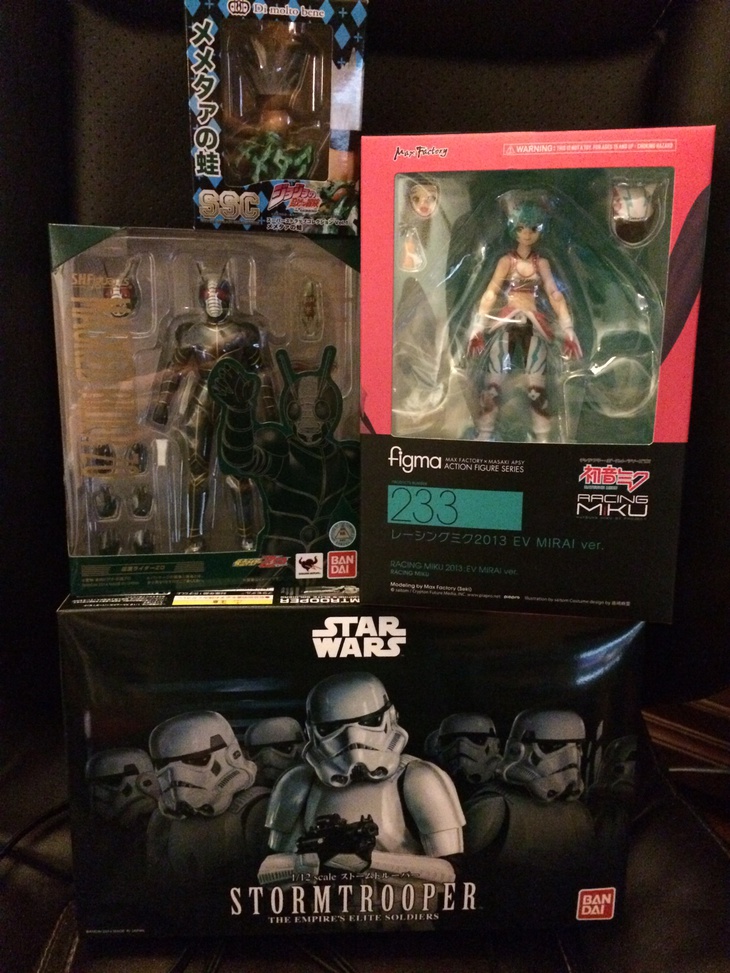 To make these posts shorter and easier for me to write I will be splitting this order into two separate posts. Today I will be looking at the Stormtrooper kit and the frog strap.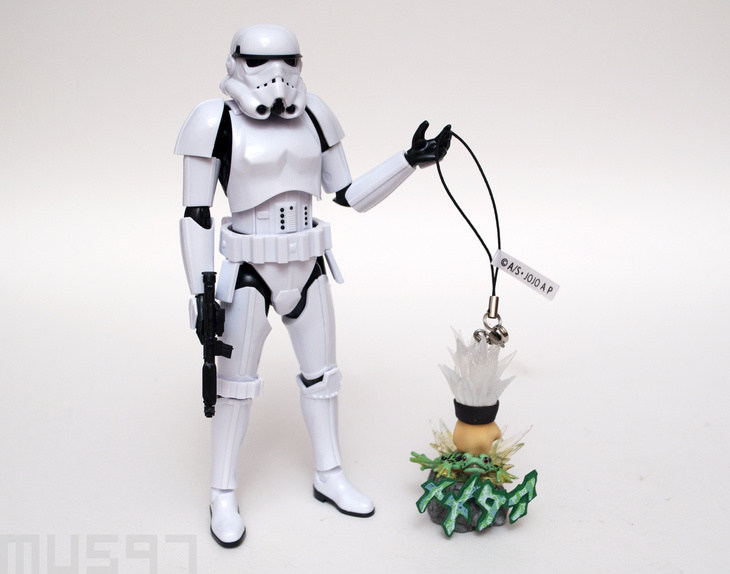 Before we talk about the trooper, lets talk about the previous kit, Darth Vader. Vader is a nice kit but has some problems. The first is that his cape is made of solid pieces of stiff plastic that are annoying to deal with when posing him. The second is that he is cast entirely in black plastic with all of the details that need to be painted (or stickerd) being very tiny. My stickering on Vader looks awful in these pictures.
The trooper is a fun and fairly simple build, with a majority of his parts only on two large sprues.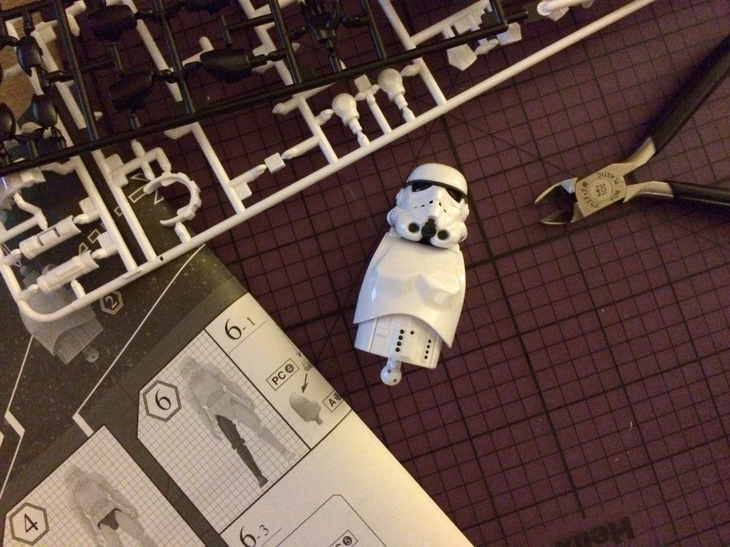 Here is the Stormtrooper completed and without stickers. None of the problems i had with Vader are present on the Trooper. He looks surprisingly great unpainted, with most of his key details existing as separate black pieces. His sculpt is clean and crisp with good proportions, my only complaint is his short neck, which looks better or worse depending how you have his shoulders positioned.
Included is a good amount of accessories. Three blasters small, medium and large in size. Three sets of hands, calm open hands (which can cup the bottom of a blaster) blaster holding hands and an unmatched set with a fist and a pointing hand. Also included are alternate parts to have his holster on the other side of his back and a generic black stand.
And here they are with the few Star Wars black figures I own, they fit in very well together. I really like this kit, it looks great and was fun to build. I would recommend him to anyone interested in action figure model kits. I kind of want to get more of these and save them to build on boring days.
Next up is the frog strap strap from JoJo's Bizarre Adventure! This figure is based on one of my favorite scenes from the manga / anime. Were the mentor character Zeppeli punches a frog sitting on a rock to show his skill, his punch destroys the rock but leaves the frog unharmed.
The sculpt recreates this scene nicely, though it is fairly stylized (with Zeppeli's fist looking like a rocket punch) The colors match up well with the anime version and the clear parts look great.
there are plenty of small details, though the paint does look a bit sloppy this close up. Remember this is pretty small figure. Even the bottom in nicely detailed!
This figure is supposed to be a strap, but it is quite large for one and with all the pointy bits to jab into your hand I can't see this working too well as one. However it works quite well as a small (trading figure sized) figurine.
Stay tuned for part 2, were I shall look at Miku and Kamen Rider ZO!
Part 2 can now be found
here.