I Summon Dark Magician Girl in Figure Mode
06 апр 2011 06:01:10
On Monday, I received my first pre-ordered figure of 2011. While I myself am not into YuGiOh (outside of the abridged series and picking up a few games, I don't follow any of the YuGiOh titles), I admit that I do like the Dark Magician Girl (or Black Magician Girl, to some people), one of the more popular characters in the Duel Monsters card game. As a result, upon seeing that a figure of her would be released and impressed with the pictures that I saw of her, pre-ordered her once that started at Hobby Search. Given the recent events in Japan, I really thought this figure was going to be delayed until later this month (and that is very understandable IMO). However, I got the e-mail last week that she was ready to be shipped, which leads to now.
To start things off, let's take a look at the book that the figure came in.
I definitely have to give Kotobukiya major credit for the desgin, going with a light biue/pink design similar to the Dark Magician Girl's outfit.
Now let's look at the figure itself.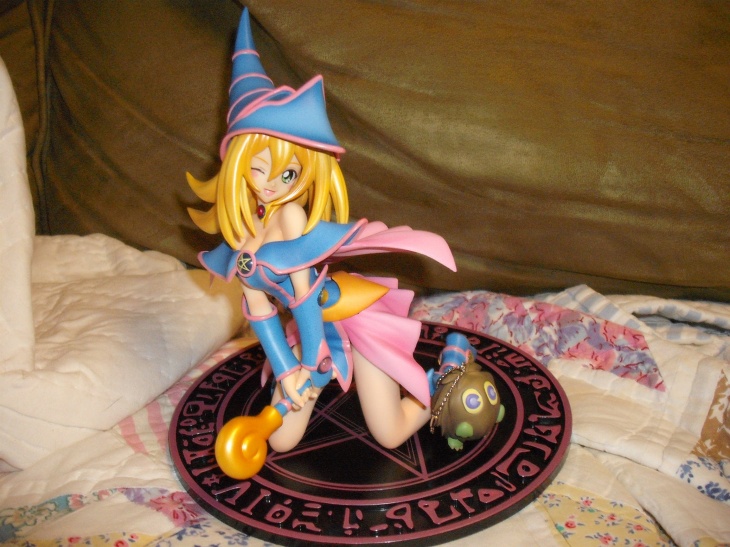 As you can see, the figure definitely captures the "cute and sexy" look that I like about her. The only problem: the base looked a little big to me (with me having to remove the base from my Tamaki Kousaka swimsuit figure in order to fit this base in the Detolf cabinet). Not sure what I'll do when I receive my next pre-order next month. Still, it's definitely a decent figure in my book (and I can always remove the base if I need room for more figures, although I'd probably need to find a new storage place soon).
Finally, given the recent situation about TV Tokyo and NAS suing 4Kids over shady deals involving the YuGiOh franchise, here's a funny video spoofing that news piece by the expert on YuGiOh parodies, LittleKuriboh.