CIvilization V
03 окт 2010 03:57:24
So I said I'd put a post about Civ 5, and here it is :)
Civilization 5 is a very deep and complex type of game called "4X", standing for "eXplore, eXpand, eXploit and eXterminate". For the most part, you create and manage an empire in a turn-based setting. You get to specify where your cities will be, what your people will produce in terms of resources, buildings and units, what technology you will attempt to discover, and ultimately meet with other civilizations. You may end up making peaceful contacts with them and try to compete them in terms of financial, diplomatic or scientific means. Or you might decide to do war upon them.
Enough of the preambles. Here are the screenshots of me playing this.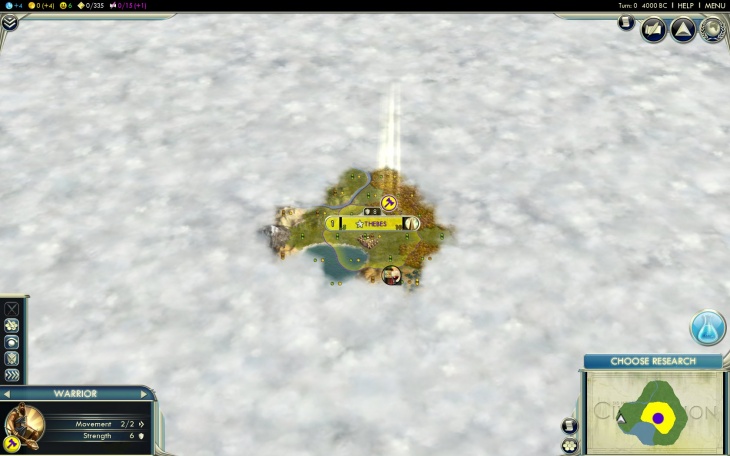 When you first begin, you start small. One settler to settle a city with, one warrior to protect the city or to explore the surroundings. You can decide what to build and what to research. Building scouts to explore the surroundings faster is an option. You may want to build a monument so that your cultural influence can spread faster. Or you can build a worker, and prepare to improve the lands around you. Or if you feel belligerent, build a warrior, and prepare to do war upon your (future) enemies.
In this particular game, I wanted to be a bit peaceful and attempt a cultural victory. So I started as Egypt, and maintained a small empire, planning to expand as little as possible and get along with neighbours. Well... not all is meant to be.
My neighbour happened to be France, led by Napoleon.
He wasn't interested in peace.
Those blue circles are napoleon's units. The yellow are mine.
Curse you Napoleon!
Fortunately Memphis, my second city, happened to be a fairly defensible position. So I managed to hold him off for about 1500 years (yes, years. Each turn's about 10 years, and turns correspond to less years as the time progresses). I even managed to establish another city to the side.
It is year 1755, and I discovered who my other neighbour is.
Montezuma, of the Aztecs (that weird red/blue circles around Heliopolis are his units). Well that does it. No more culture victory. Time to kick ass instead.
So I did just that.
Year 1882, destroyed majority of Aztec armies and captured several of his cities.
Year 1914, Napoleon's completely isolated from the rest of the world by the Egyptians.
At this point cultural victory was out of the window. My empire has grown too much for that. So I pursued another victory path, and in year 2023...
Victory by diplomacy. Majority of the world recognizes Egypt as the leader that will bring the world to peace.
The way game will flow changes with each new game, because of the diversity of choices you and your opponents can make. Each game really feels different from the next.
You can have a highly aggressive victory like this (all those light blue areas are my empire).
You can even play on an earth-like terrain, where all continents on earth are depicted (though no guarantee on where each cities are - Athens and Sparta in the middle of Africa?)
It takes a bit of effort to understand the mechanics behind the game, but once you take that time, there's no other game that can provide the thrills and joys that Civilization can provide.
On the other hand, playing Civ 5 should only be undertaken if you have the time to waste. It is known to cause some truly frightening addictions.
See here
.