main page
Регистрация
Войти
Войти с помощью:





Войти с помощью:




Аниме »
JoJo's Bizarre Adventure (2012)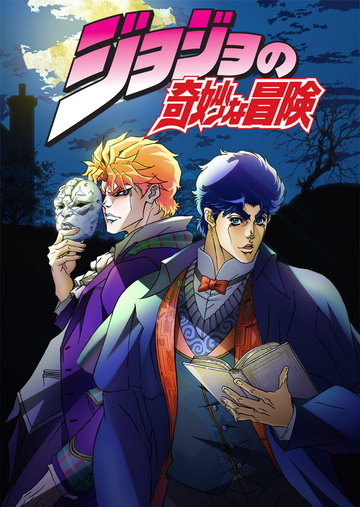 Другие названия:




ジョジョの奇妙な冒険
JoJo no Kimyou na Bouken (2012)
Невероятные приключения ДжоДжо


Tип:
TV (26 эп.), 24 мин.
Эфир:
6 октября, 2012 - 6 апреля, 2013
трансляция окончена
Жанры:
Экшн
Приключения
Драма
Сёнэн
Сверхъестественное

Студия:
David Production

Рейтинг:
8.55
Среднее:
8.58

(353 голоса)

Схватили:
613
Синопсис:
Великобритания, 19 век. Джонатан Джостар, он же ДжоДжо счастливо живёт в особняке со своим отцом. И вот у его семьи случается пополнение - отец семейства Джордж Джостар усыновляет странного паренька по имени Дио Брандо. Джонатан рад - у него появится новый друг. Однако, Дио вовсе не настроен проявлять дружелюбие. Он задумал избавиться от единственного наследника Джостаров и заполучить всё их состояние себе. Мало того, что он избил Джостара-младшего в спарринге по боксу, настроил его друзей против Джонатана, так ещё и украл первый поцелуй у его девушки! Как будто этого мало, Дио сжигает в печи любимую собаку Джонатана - Денни. Но хуже всего то, что Дио тоже лыком не шит - на людях он ведёт себя как образцовый джентльмен. Тут терпению ДжоДжо приходит конец...
Опенинг #1 "JoJo ~Sono Chi no Sadame~ (ジョジョ~その血の運命~) (эпизоды 2-9)
Опенинг #2 "BLOODY STREAM" (эпизоды 11-25)
Эндинг #1 "Roundabout"
Эндинг #2 "Roundabout"
Блоги:
Дофига и нафига. Часть 1: Jojo
В этом году подскользнулась аж на двух мастодонтах мира аниме и манги. Первыми были Jojo's bizarre adventure, вторым Hunter x Hunter. Оба ранее были в категории "нахрена и дохрена", а тут раз и за пару месяцев сначала посмотрела первое, а сейчас за двадцать дней - второе. Захотелось поделиться впеча...
Pimys | | 23 окт 2017

MU's opinion on the Fall 2012 anime season
I'm back with my thoughts of the previous anime season. I didn't review the previous season because I dont think I really watched anything from it. Here are my thoughts on the Fall anime season. Busou Shinki My surprise favorite of the season. Based on the Busou Shinki toy line (which ar...
mu597 | Япония и отаку-культура | 28 дек 2012

JoJo's Bizarre Adventure Fansub Comparison
Edit - this post is now irrelevant JoJo is now officially available on crunchyroll. JoJo's Bizarre Adventure is one of the few shows that isn't being simulcast This anime season. But surprisingly, there are quite a few fansub groups subbing the the show despite it's seemingly small fanbase. I tho...
mu597 | Япония и отаку-культура | 29 окт 2012
↓ Ещё ↓
↑ Закрыть ↑