v.3.12 rev.1
main page
Регистрация
Войти
Войти с помощью:





Войти с помощью:




Аниме »
Lupin III: Seven Days Rhapsody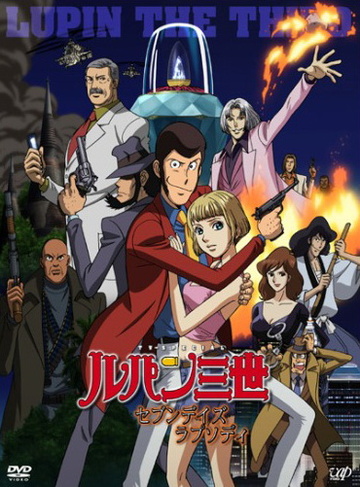 Другие названия:




Rupan Sansei: Sebun Deizu Rapusodi
ルパン三世 「セブンデイズ・ラプソディ」
Люпен III: Семидневная Рапсодия


Tип:
Special (1 эп.), 92 мин.
Эфир:
8 сентября, 2006
трансляция окончена
Жанры:
Экшн
Приключения
Комедия

Студия:
TMS

Рейтинг:
7.35
Среднее:
7.42

(12 голосов)

Схватили:
27
Синопсис:
Lupin and Jigen planed to steal enormous money of a racetrack in New York. Their plan is perfect and the only thing remains is to wait for 6 days. To celebrate the success beforehand, they go to a town.
Lupin parts from Jigen because he recalls another engagement. Then, Lupin saves a girl, Michelle, being chased by suspicious men. She asks Lupin to steal a diamond from her father in order to stop him from doing evil things. Lupin thinks he can get both money and a diamond 6 days later, and he accepts her request to guard her for 6 days.
Meanwhile, Jigen meats his old fellow soldier, Ryatte, and they're talking about another business. Then, Jigen is supposed to spends 6 days with Ryatte before the plan with Lupin. On the other hand, Fujiko and Goemon are planning to steal a diamond at a diamond exhibits. The host of the exhibition is…