main page
Регистрация
Войти
Войти с помощью:





Войти с помощью:




Аниме »
Fullmetal Alchemist: The Conqueror of Shambala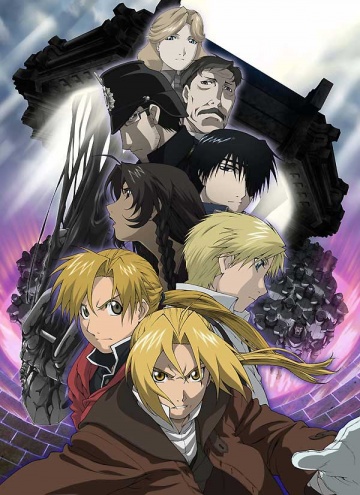 Синопсис:
Прошло несколько лет после того, как один из братьев Элриков — Альфонс — обрёл своё человеческое тело, потеряв память. Ал вырос похожий во многом на своего старшего брата. Эдвард, в конце сериала оказавшийся в нашем мире, — бродяга без руки и ноги, но с механическими протезами. Он живёт вместе с юношей-изобретателем Альфонсом Хайдерихом, похожим на Ала, в послевоенной Германии.
В 1923 году Эд и Альфонс направляются вместе с цыганами на ярмарку в Мюнхен. Случайно Эд спасает одну из них, способную видеть судьбу. В Германии неспокойно, многие вступили в национал-социалистическую партию и готовятся к восстанию 8 ноября. Общество Туле хочет быть полезным Гитлеру и стремится любой ценой захватить к этой дате мир Элриков, принимая его за легендарную Шамбалу, но все оказывается не так просто по ту и эту стороны Врат.
Блоги:
Аниме-обзор № 59
На прошлой неделе написала всего один обзор, все больше флудила, так что на этой неделе надо отписать побольше, иначе я никогда себя не догоню! Ведь с тех пор как я выложила пост в прошлый понедельник, материала насобиралась на еще два поста – и это только из свежего! А еще 13 черновиков по старому...
platina | Япония и отаку-культура | 17 окт 2012
↓ Ещё ↓
↑ Закрыть ↑