main page
Регистрация
Войти
Войти с помощью:





Войти с помощью:




Аниме »
Eiga Yes! Pretty Cure 5 Kagami no Kuni no Miracle Daibouken!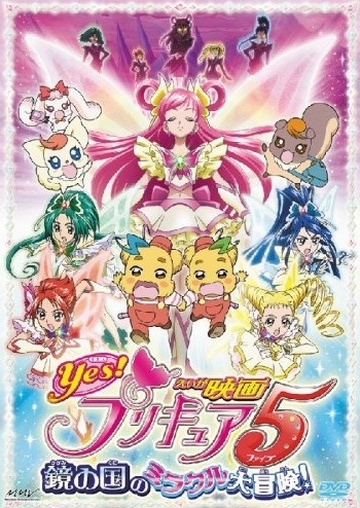 Другие названия:




鏡の国のミラクル大冒険
Great Miraculous Adventure in the Mirror Kingdom


Tип:
Movie (1 эп.), 70 мин.
Эфир:
10 ноября, 2007
трансляция окончена
Жанры:
Экшн
Комедия
Фентези
Магия
Сёдзе
Супер-герои

Студия:
Toei Animation

Рейтинг:
7.33
Среднее:
7.4

(10 голосов)

Схватили:
15
Синопсис:
While Nozomi and her friends are enjoying themselves at Princess Land, an amusement park, Coco and Nuts have been abducted into the Mirror Kingdom. At the same time, Shadow (Voiced by: Romi Park) is after the Dream Collet so that he can use the power of the Pinkies to rule the Mirror Kingdom. To prevent this from happening, Migirin and Hidarin, who are residents of the Mirror Kingdom, become allies with Pretty Cure to assist in the fight against Shadow and rescuing Coco and Nuts.