v.3.12 rev.1
main page
Регистрация
Войти
Войти с помощью:





Войти с помощью:




Аниме »
Ore no Imouto ga Konnani Kawaii Wake ga Nai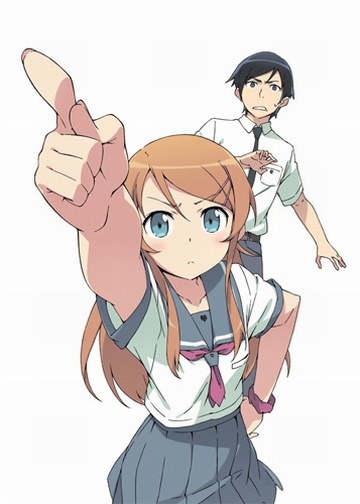 Другие названия:




My Little Sister Can't Be This Cute
俺の妹がこんなに可愛いわけがない
Моя сестренка не может быть такой милой
Oreimo
Ну не может сестренка быть такой милой
Моя младшая сестра не может быть такой милой


Tип:
TV (12 эп.), 25 мин.
Эфир:
3 октября, 2010 - 19 декабря, 2010
трансляция окончена
Жанры:
Комедия
Драма
Повседневность
Сейнэн

Студия:
Aniplex
MOVIC
AIC Build

Рейтинг:
7.73
Среднее:
7.74

(651 голос)

Схватили:
978
Синопсис:
Кёсукэ Косака, обычный семнадцатилетний школьник, из-за различных конфликтов последние несколько лет не общается с родной сестрой, Кирино, и это при том, что они живут в соседних комнатах. Однажды дома он находит коробку с диском аниме «Hoshikuzu Witch Meruru» (досл. «Звёздная ведьма Меруру»), раскрыв которую обнаруживает, что на диске записан вовсе не мультик для детей, а игра для взрослых «Imouto to Koishiyo!» (досл. «Любовь с младшей сестрёнкой»). Вскоре он узнаёт, что диск принадлежит его сестре, которая, как он думал, никогда не стала бы такое смотреть и тем более играть. Более того, коллекция Кирино оказывается намного больше, чем можно было представить.
Trailer
Опенинг "irony"
Эндинг
Эндинг 2
Блоги:

Полкопраздник!!
Та-дам! Вот и меня наступил полкопраздник – 100 дней! Почему это важно? Потому что вхождение в столь замечательное коммьюнити дало мощный толчок к развитию моего тайного хобби, которое расцвело пышным цветом за эти 100 дней. Во-первых, теперь я не стесняюсь говорить о своем увлечении с теми, кто с н...
Starsy | Личное | 27 апр 2012
↓ Ещё ↓
↑ Закрыть ↑