v.3.12 rev.1
main page
Регистрация
Войти
Войти с помощью:





Войти с помощью:




Аниме »
Girls und Panzer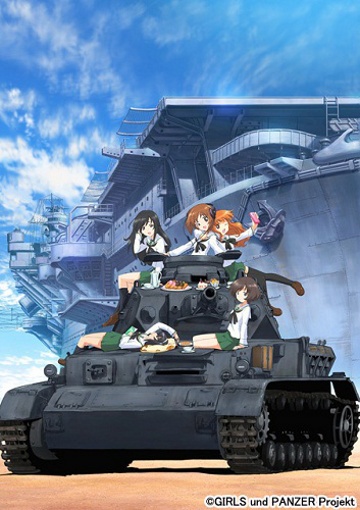 Другие названия:




ガールズ&パンツァー
Девушки и танки


Tип:
TV (10 эп.), 25 мин.
Эфир:
9 октября, 2012 - 18 декабря, 2012
трансляция окончена
Жанры:
Экшн
Комедия
Школа
Военное

Студия:
ACTAS, Inc.
MOVIC
A-line

Рейтинг:
7.72
Среднее:
7.75

(127 голосов)

Схватили:
237
Синопсис:
В очередной раз нам показывают миленьких старшеклассниц, управляющих оружием. На этот раз героини будут орудовать танками. Во вселенной, которую нам покажу, нет ничего особенно в том, что очаровательные девушки в мини, в очень очень мини ... могут управлять танками. Главную героиню зовут Михо и она переводится в одну старшую школу для девочек Оарай. И сразу же после перевода местный школьный совет обращается к ней с просьбой - поучаствовать в Национальном танковом Чемпионате СеншаДо. С этого и начинается все самое интересное...
Блоги:

Проба пера 11
Доброго времени суток. Темой 11-го "обзора" являются "комедии". Данный пост претерпел небольшие структурные изменения - не все представленные сериалы являются комедией "в чистом виде". Но, смею думать, на качество это не повлияло. San Hai! Baka to Test to Shoukanj...
Jeron | Япония и отаку-культура | 30 июл 2013

MU's opinion on the Fall 2012 anime season
I'm back with my thoughts of the previous anime season. I didn't review the previous season because I dont think I really watched anything from it. Here are my thoughts on the Fall anime season. Busou Shinki My surprise favorite of the season. Based on the Busou Shinki toy line (which ar...
mu597 | Япония и отаку-культура | 28 дек 2012
↓ Ещё ↓
↑ Закрыть ↑