v.3.12 rev.1
main page
Регистрация
Войти
Войти с помощью:





Войти с помощью:




Аниме »
Suzumiya Haruhi-chan no Yuuutsu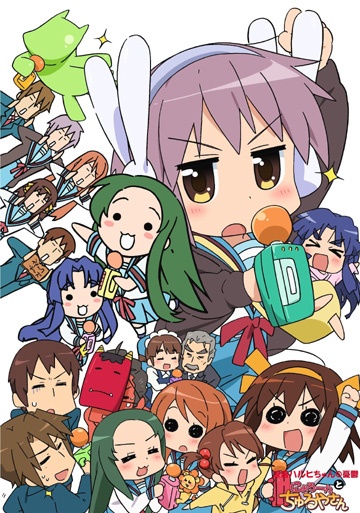 Другие названия:




涼宮ハルヒちゃんの憂鬱
The Melancholy of Haruhi-chan Suzumiya
Меланхолия Харухи-чан Судзумии


Tип:
ONA (25 эп.), 5 мин.
Эфир:
13 февраля, 2009 - 8 мая, 2009
трансляция окончена
Жанры:
Комедия
Пародия
Школа
Повседневность

Студия:
Kyoto Animation

Рейтинг:
7.62
Среднее:
7.64

(148 голосов)

Схватили:
292
Синопсис:
Комедийный спин-офф самого популярного сериала 2006-го года, «Меланхолии Харухи Судзумии».Присутствуют все главные герои, только слегка "измененные". Скажем Нагато теперь увлекается эроге, в доме у неё живёт резервная копия Асакуры-сан вместе с зёленым надувным псом, у Асахины-сан теперь есть ручной лев, Цуруя ищет возможности подраться с Мори и многое-многое другое...