v.2.180 rev.6
main page
Регистрация
Войти
Войти с помощью:





Войти с помощью:




Аниме »
Suzumiya Haruhi-chan no Yuuutsu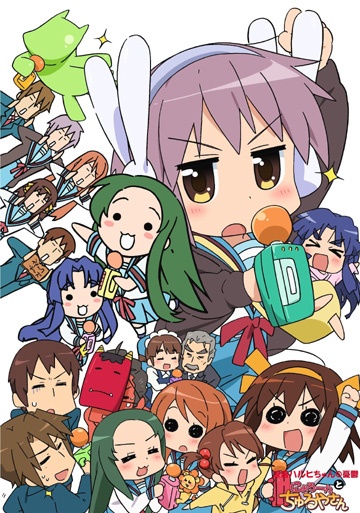 Другие названия:




涼宮ハルヒちゃんの憂鬱
The Melancholy of Haruhi-chan Suzumiya
Меланхолия Харухи-чан Судзумии


Tип:
ONA (25 эп.), 5 мин.
Эфир:
13 февраля, 2009 - 8 мая, 2009
трансляция окончена
Жанры:
Комедия
Пародия
Школа
Повседневность

Студия:
Kyoto Animation

Рейтинг:
7.71
Среднее:
7.74

(137 голосов)

Схватили:
261
Синопсис:
The episodes of the original net animation (ONA) The Melancholy of Haruhi-chan Suzumiya were produced by Kyoto Animation between February and May 2009. The episodes are based on a parody manga series of the same name based on the Haruhi Suzumiya series. The series does not fit into the normal continuity of the main series. During the first few episodes, the characters in the series were rendered using computer-generated imagery. Soon afterward, the character animation returned to the standard two-dimensional animation style. Twenty-five episodes were created for the ONA series, with two episodes released each week until the last, where an extra long episode was shown.