Аниме » Sailor Moon SuperS Special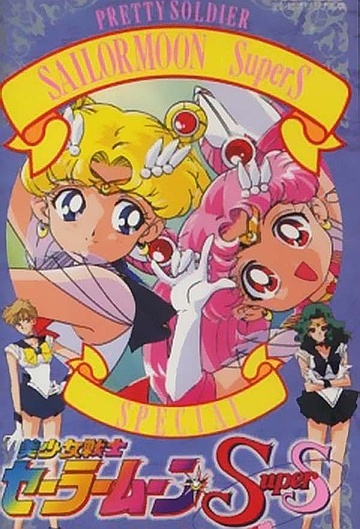 Другие названия:




Красавица-воин Сейлор Мун Супер Эс - Спецвыпуск
Bishoujo Senshi Sailor Moon Super S Special
Sailor Moon Super S Special
Beautiful-Girl Warrior Sailor Moon Super S Special
美少女戦士セーラームーンSUPERSスペシャル


Tип:
Special (3 эп.), 48 мин.
Эфир:
8 апреля, 1995
трансляция окончена
Жанры:
Приключения
Магия
Романтика
Сёдзе

Студия:
Toei Animation

Рейтинг:
7.95
Среднее:
8.03

(71 голос)

Схватили:
127
Синопсис:
Это спецвыпуск к четвёртому сезону сериала, который был показан между 33 и 34 эпизодами. Длина спецвыпуска составляет 45 минут и он включает в себя три новеллы.
Первая новелла
рассказывает о жизни Усаги на протяжении первых трёх сезонов и включает в себя флешбэки в предыдущие серии сериала, где рассказывается о борьбе сэйлор-воинов против Тёмного Королевства, Династии Тёмной Луны и Апостолов Смерти.
Вторая новелла
рассказывает о том, что же случилось с Харукой и Мичиру во время четвёртого сезона, когда они отсутствовали на протяжении всех серий этого сезона. В этой новелле Харука и Мичиру встречаются со странным чревовещателем и его говорящей куклой, которые явно планируют какой-то тёмный замысел.
Третья новелла
является экранизацией одного из специальных комиксов манги и повествует нам о том, как в класс Чибиусы приходит странная новенькая ученица Ририка, оказывающаяся самым настоящим вампиром. Спецвыпуск, в отличие от мувиков, получился очень удачным и действие в нём развивается достаточно динамично. Но в визуальном плане специальный выпуск значительно отстаёт от сериала.
Блоги:

Аниме-обзор № 65. Sailor Moon +
Стараюсь приурочивать к юбилейным номерам обзоров какой-то большой фендом или еще что-нибудь "особенное". В этот раз захотелось вспомнить Сейлоров) Whisper of the Heart Это очень интересная работа с точки зрения фэндомности, ибо тут присутствуют отсылки к двум другим работам Гибл...
platina | Япония и отаку-культура | 15 ноя 2012
↓ Ещё ↓
↑ Закрыть ↑