Аниме » Sailor Moon Sailor Stars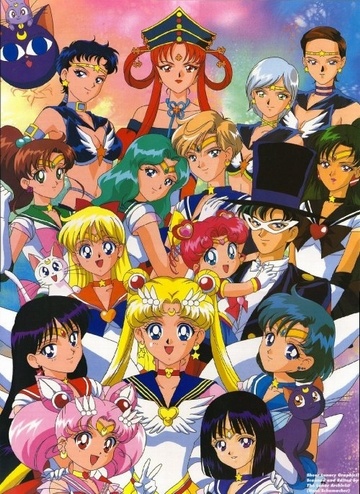 Другие названия:




Красавица-воин Сейлор Мун: Сейлор-звезды
Bishoujo Senshi Sailor Moon Sailor Stars
Pretty Soldier Sailor Moon Sailor Stars
美少女戦士セーラームーン セーラースターズ
美少女戦士セーラームーン セーラースターズ


Tип:
TV (34 эп.), 23 мин.
Эфир:
9 марта, 1996 - 8 февраля, 1997
трансляция окончена
Жанры:
Приключения
Комедия
Магия
Романтика
Сёдзе

Студия:
Toei Animation

Рейтинг:
8.35
Среднее:
8.4

(175 голосов)

Схватили:
288
Блоги:

Как всё начиналось (осторожно, есть немного мемуаров и нет красивых фигурок!)
Наступило время сдержать обещание, и раскрыть тайны своей коллекции. Я не буду начинать издалека, с раннего детства и просмотра СейлорМун, а перейду к началу ГК-творчества. Думаю, мало у кого хобби начиналось с максимализма, так что мой старт несколько занятен. Я увидела и узнала о гараж кит...
Marduk_Toten | Фигурки и куклы | 11 авг 2013

Аниме-обзор № 65. Sailor Moon +
Стараюсь приурочивать к юбилейным номерам обзоров какой-то большой фендом или еще что-нибудь "особенное". В этот раз захотелось вспомнить Сейлоров) Whisper of the Heart Это очень интересная работа с точки зрения фэндомности, ибо тут присутствуют отсылки к двум другим работам Гибл...
platina | Япония и отаку-культура | 15 ноя 2012
↓ Ещё ↓
↑ Закрыть ↑