Аниме » One Piece: Dream Soccer King!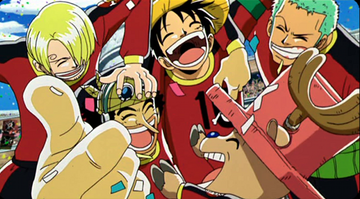 Другие названия:




One Piece Soccer King of Dreams Special
ONE PIECE ワンピース 夢のサッカー王!


Tип:
Special (1 эп.), 6 мин.
Эфир:
2 марта, 2002
трансляция окончена
Жанры:
Комедия
Сёнэн
Спорт

Студия:
Toei Animation

Рейтинг:
7.51
Среднее:
7.59

(27 голосов)

Схватили:
67
Синопсис:
Luffy and his crew take on the Villain All-Stars in a game of soccer in order to become the Dream Soccer King. The game comes down to a pk tie-breaker shoot-out with Coby as goalie and Helmeppo refereeing.