v.3.0 rev.21
main page
Регистрация
Войти
Войти с помощью:





Войти с помощью:




Аниме »
One Piece Special: Protect! The Last Great Performance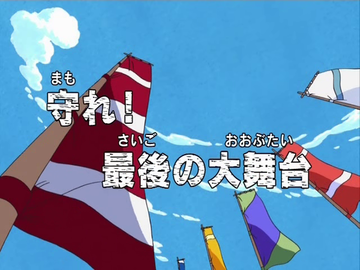 Другие названия:




Mamore! Saigo no Daibutai
ワンピース 守れ!最後の大舞台


Tип:
Special (1 эп.), 42 мин.
Эфир:
14 декабря, 2003
трансляция окончена
Жанры:
Приключения
Комедия
Фентези
Сёнэн

Студия:
Toei Animation

Рейтинг:
7.57
Среднее:
7.64

(36 голосов)

Схватили:
94
Синопсис:
For many years, Ex-Marine Lieutenant Randolph and his troupe have put on a play aboard his ship. Having lost his family to pirates, Randolph wishes to put on plays that will give courage to those who have also lost their loved ones to pirates. Unfortunately, Randolph must retire soon, and he is now giving his last performance. Luffy and his crew come to see the play, and somehow manage to take part in it themselves. But from Randolph's past comes a vengeful subordinate with a diabolical plan who has finally become commander in order to capture Randolph. Luffy and his nakama now must prove to the people that not all pirates are scum, and protect Randolph's final farewell performance from the bitter commander. (
aired after Episode 174
)
Блоги:

№1 О любимой манге\аниме замолвить слово
Всем доброго времени суток! Сегодня я хочу поговорить о любимой манге\аниме «One Piece». И собственно говоря, решила по нему составить обзор. :)) One Piece (яп. ワンピース, «Ван Пис») — манга Эйитиро Оды в жанре сёнэн и её аниме-экранизация. Первый выпуск манги вышел 4 августа 1997 года в журнале «...
Sekai | | 22 фев 2015
↓ Ещё ↓
↑ Закрыть ↑