v.2.180 rev.6
main page
Регистрация
Войти
Войти с помощью:





Войти с помощью:




Аниме »
Detective Conan Movie 08: Magician of the Silver Sky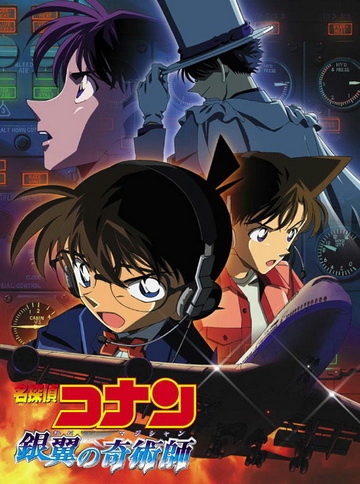 Другие названия:




Meitantei Conan: Gin`yoku no Magician
名探偵コナン 銀翼の奇術師[マジシャン]
Детектив Конан: волшебник серебряного неба


Tип:
Movie (1 эп.), 108 мин.
Эфир:
17 апреля, 2004
трансляция окончена
Жанры:
Экшн
Приключения
Тайны
Детектив

Студия:
TMS

Рейтинг:
8.35
Среднее:
9.08

(12 голосов)

Схватили:
23
Синопсис:
Актриса просит Моури Когоро сохранить принадлежащий ей драгоценный камень, который поклялся украсть Кайто Кид. В день кражи Кид переодевается в Шиничи, успешно подражает ему и, в конце концов, сбегает. Чтобы отблагодарить Моури, актриса приглашает его с семьей в Саппоро, но все планы рушатся, и теперь интрига должна быть распутана в чрезвычайном положении - высоко над облаками, в летящем в Саппоро самолёте...